Where Are They Now: Kliff Kingsbury's Quarterbacks
Photos: Ashley Wirz, 1340TheFan.com/John Weast, Getty Images/Ronald Martinez, Getty Images
A lot has been said about the attrition that Kliff Kingsbury's program has been subject to during his four seasons as the BDOC (Big Dawg On Campus) in Lubbock, Texas. This attrition can be accredited to many things, including felonies, injuries and even players getting Ds.
The bottom line is that there's a long list of reasons why players will leave a program, and very few of them have to do with the head coach directly. Yet Kingsbury has been continually blamed for the revolving door at quarterback in the past four seasons he's been Texas Tech's head coach.
Not including the quarterbacks currently suspended and/or on the roster, Kingsbury has coached six quarterbacks in four seasons. That could be seen as an indicator of success or lack thereof, but we can keep blaming the defense.
In this recap, we'll review the quarterbacks who've left the program early and what they are up to now.
Patrick Mahomes
Davis Webb
Vincent Testeverde Jr.
Teste V the Second walked on to Texas Tech in 2014 and played in one game after both Davis Webb and Patrick Mahomes were injured. He went back home to Miami the next season. Vinny T. spent 2016 on the practice squad and will have the opportunity to be the back up for The U next season.
Michael Brewer
Brewer was the incumbent quarterback when Kingsbury arrived on campus. After spending the 2013 season sidelined with a mysterious back injury, Brewer jumped ship to the Hokies of Virginia Tech where he broke his collar bone.
Clayton Nicholas
Nicholas was a part of the 2013 class that included fellow transfers Davis Webb and Baker Mayfield. Nicholas went on to enroll and transfer from Bowling Green. He is now slinging the rock for the Faulkner Eagles.
Baker Mayfield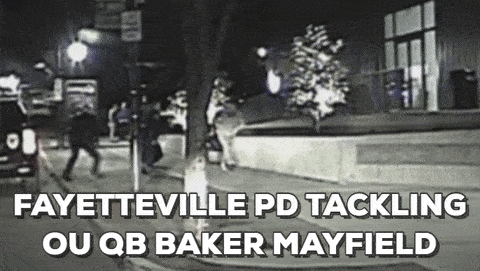 Less publicized in Lubbock is that Mayfield has risen from a walk-on at OU to leading back-to-back Big 12 championship runs, and primed for a three-peat in 2017. But Mayfield's recent arrest plays much better in Red Raider country.
Highlights

See Patrick Mahomes in Action

Interview

Patrick Mahomes Talks 2016 Season at Texas Tech

BONUS

Kliff Kingsbury Isn't Leaving Texas Tech Football
More From Talk 103.9 & 1340