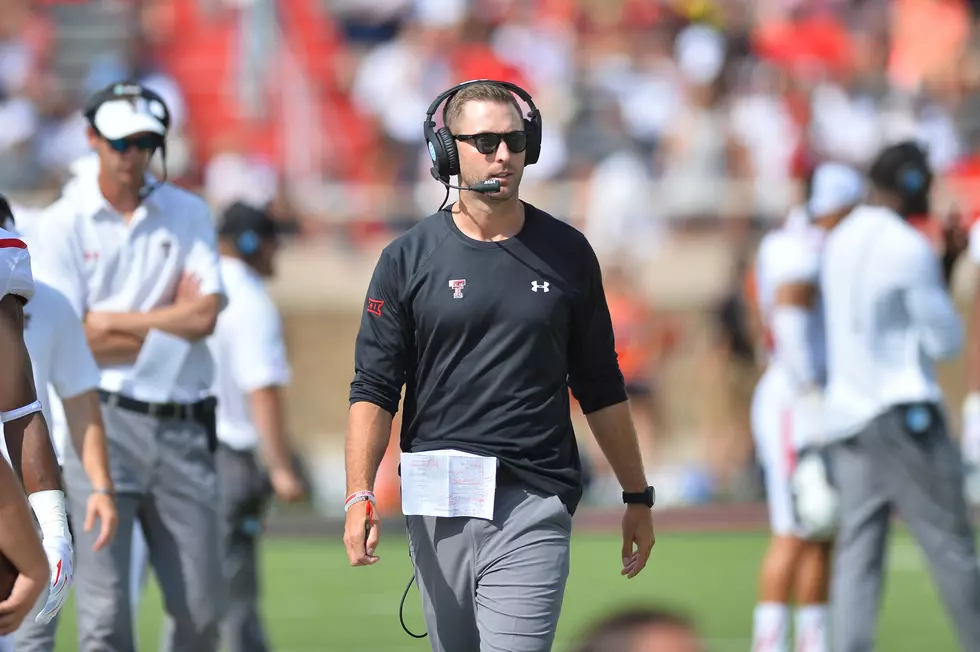 Texas Tech Spring Spotlight: The Case for the Starting Quarterback
Getty Images
Spring football has come and gone, and I have a lot of opinions on the state of the Texas Tech football program.
I tried to outline them all in a single article, but I didn't even scratch the surface of what I wanted to discuss. So now I'm going to go position by position until I have nothing left to say on the matter. Until this summer, when I'll write a new series of articles on Texas Tech football.
Starting the Spring Spotlight Series is the most important position in Big 12 football: The Quarterback.
Kliff Kingsbury claims every spring that there is a quarterback battle, but for the first time since 2013 there is not an absolute front-runner for the job.
In 2014, after two transfers, Davis Webb was the clear choice. In 2015, Patrick Mahomes had clearly passed Davis Webb. In 2016, Patrick Mahomes was a Heisman Candidate. In 2017, Nic Shimonek was the only logical option on campus in the spring.
Going into the spring this year, it was a two-man race for the starting QB role at Texas Tech between Jett Duffey and McLane Carter. After 12 practices and three scrimmages, nothing has been learned except that Alan Bowman deserves an opportunity to compete for the starting job.
In the three scrimmages, Jett Duffey threw for 407 yards and completed 63 percent of his passes against the Texas Tech defense. That's not stellar, but Duffey failed to get into a rhythm because he wasn't allowed, or tried not to, use his legs. He didn't show the play-making ability that was missing last year. Then again, he wasn't given the opportunity several times because of quick whistles to protect the quarterbacks.
McLane Carter threw for 388 yards and completed 55 percent of his passes. He was the only quarterback to throw a touchdown in every game. It was a mixed bag for Carter, who also failed to get in a rhythm and seemed to only feel comfortable on the quick reads.
In limited action, Alan Bowman completed 52 percent of his passes for 249 yards, including a long touchdown in Frisco, Texas. With just 15 practices in a Red Raider uniform, Bowman already looks the part. So just imagine what he could look like after fall camp heading into week one against Ole Miss.
Alan Bowman faces the longest odds to be named the starter. I'll give him a 15 percent chance though, which is high for a true freshman just 15 practices into his tenure as a Red Raider.
I'm also going to give 5 percent to someone who isn't on the roster right now. There is still a chance for a grad transfer to come in and make a push, even though it's incredibly unlikely.
That means McLane Carter and Jett Duffey are the two most likely candidates and have 80 percent of this pie chart to divvy up. Just to recap where we are right now:
The Case for McLane Carter
Carter is the only QB on the Texas Tech roster who has ever started a game for Texas Tech, and even though he is 1-0, the Red Raiders won that start despite Carter's efforts and not because of them. Even with that bad taste in the mouth from last season, there are several factors that line up with Carter winning the job this fall.
The RPO, pistol, play-action, quick-read style is tailor-made for Carter's skill set. He's athletic enough to keep a defense honest in the read-option game and excels at the seam route and screen game. If Kevin Johns can make enough of an imprint in this offense, Carter is the favorite to win this job and will be successful within that system.
The problem for Carter is that Kliff Kingsbury isn't going to hand over the offense and walk away. Carter struggles making throws to the entire field, which is needed in the 'KinsgbAir Raid' offense.
I do think the offense will look different in 2018, but will it transform enough to make Carter a viable option at quarterback?
The Case for Jett Duffey
Duffey has been in the Texas Tech system, off and on, since Spring 2016. He's never thrown an incomplete pass as a Red Raider. As an athlete, Duffey is the clear choice over Carter and Bowman. He has a better arm than Carter. He was named Mr. Texas Football as a senior in high school.
The negatives for Jett Duffey on the field are unknown at this point. Can he read defenses at this level? Is he dynamic enough as an athlete to hide his deficiencies as a QB? Does anyone really know?
Duffey was hampered the most in spring football by the quick sack rule. If a defender gets close at all, the officials blow the whistle, which eliminates most of what Duffey did in high school.
The quantifiable negatives for Duffey begin to pile up off the field, where he's been involved in two different instances where his poor decision making hindered his development on the field. He was suspended by the University last spring after a Title IX investigation, and he was arrested this spring and missed a week of practice after punching a wall in frustration during an incident at Bash RipRock's.
I don't think that those bad off-the-field decisions automatically mean he's going to make poor decisions on the field, but they might factor into the decision that Kliff Kingsbury needs to make.
In my opinion, the on the field positives far out weigh Jett Duffey's off-the-field negatives.
Tale of the Tape
Carter is a junior who stands 6'3" and weighs in at 225. Duffey is a red-shirt sophomore, stands 6'1" and weighs exactly 200 pounds.
Carter has more Texas Tech film to analyze.
High School Success
As a senior, Carter led Gilmer to a 16-0 season and a State Championship. He dazzled in the passing game, throwing for 3,969 yards with 47 touchdowns and only two interceptions while maintaining a 74 percent completion percentage. At Tyler JC, he threw for 3,226 yards with 30 touchdowns and nine interceptions with a 58 percent completion percentage.
Duffey had a much more high-profile high school career. As a senior, he accumulated 4,444 total yards of offense and 48 total touchdowns and threw seven interceptions with a 59 percent completion percentage. His senior campaign fell short of a State Title, but at 15-1, it wasn't a failure.
Cooler Name
They both have incredibly marketable names.
McLane Carter is the perfect name for a gunslinger and would belong in any elite Western movie. Bonus points for being a 'Firsty, Firsty.'
Jett Duffey has obvious potential in the Air Raid system.
Final Verdict
Taking the entire tenure for both Carter and Duffey into consideration, I think it's fairly obvious that Jett Duffey provides the Texas Tech offense with a more dynamic play-making ability. Ultimately, I think that makes Kingsbury's decision an easy one.
I'm giving Duffey a 51 percent percent chance to be named the starter in 2018, and Carter will be given the rest of the pie as a consolation.
I won't rule out that Carter will be used in certain packages or will become the starter at some point in the season, but Jett Duffey will take the first snap in 2018 against Ole Miss.
More From Talk 103.9 & 1340