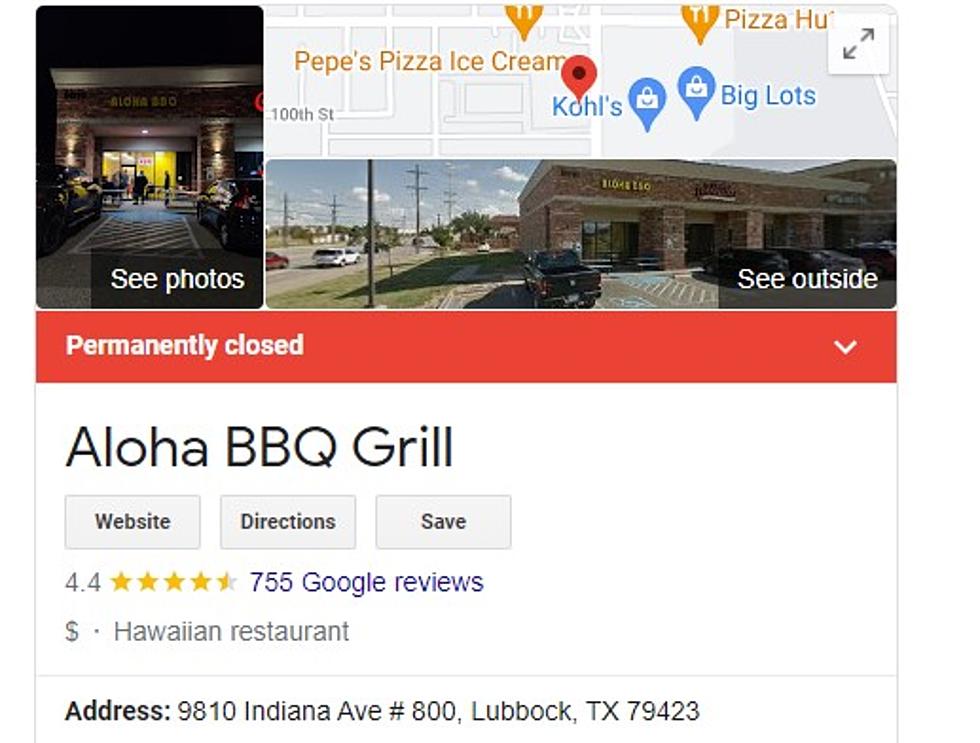 Is Aloha BBQ Grill in Lubbock Permanently Closed, or Is This Just a Bad Dream?
Screenshot, Google.com
Please, say it ain't so!
According to Google, Aloha BBQ Grill is permanently closed, which is one of the most devastating things I've read today. Here's to hoping that someone made a mistake and they are only closed temporarily.
We called the restaurant and there's an automated recording that says it will be closed until October 30th. However, according to the LBK Foodies group, they were originally only going to be closed until September 30th. So what's the dealio?
Surely one of the best and busiest restaurants in town isn't actually closing its doors. Each time you go in to get food, the line is out the door and the food is so damn good that nobody even minds waiting. Perhaps they're doing some big renovations or something? Whatever the case, I'm going to mourn their absence until they return...if they do.
The food at Aloha BBQ Grill is so inexpensive and the portion sizes are astronomical and friggin' delicious. If you've never had the pleasure of eating there, it's an utter shame. And if they do reopen again and this is all just a bad dream, you had better get yourself over there for the best Hawaiian food you've ever had.
Until then, I will just daydream about that BBQ mixed plate that I always intend on saving half of for the next day, only to find myself picking at it, cold, in my fridge, hours later. It's that good, folks. It's that damn good.
DON'T BE GONE FOREVER, Aloha BBQ Grill. You're the best thing about living in Lubbock.
55 Times Lubbock Was Mentioned in TV Shows, Movies, Songs & More
Here's a bunch of times the Hub City was mentioned in TV shows, movies and songs.
10 Restaurants That Have Closed in Lubbock, Texas
More From Talk 103.9 & 1340