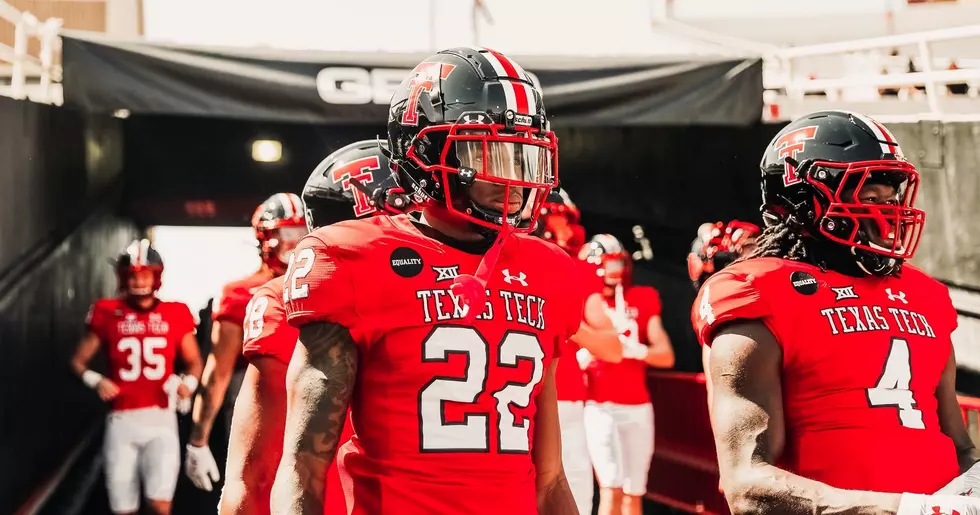 First Half Observations from Texas Tech vs Texas – Special Teams Making Plays
Texas Tech Football, Twitter
Enter your number to get our free mobile app
Texas Tech's 1970s throwbacks worn for this game, should be used again later in the season.  A great look for Texas Tech.
The ~25% crowd at Jones AT&T Stadium was definitely more boisterous and more into the game compared to two weeks ago.
The NCAA needs to completely prohibit shared jersey numbers.  A correct observation was made during the first quarter that confusion over which "Texas #5" was lining up for kickoff returns was valid.  Texas lists #5 D'Shawn Jamison and #5 Bijan Robinson on their active roster. Jamison plays cornerback, Robinson running back, but both are used on special teams. With '0' or '00' available, each team has 100 jersey numbers for 65 active players; which should be plenty for each game.
The two-plus minute replay review of Texas Tech's successful onside kick early in the second quarter helped kill any momentum Texas Tech gained from the tactic. Then, Alan Bowman's interception, thrown on the first play after the onside kick, deflated the air out of the stadium.
And...  then Alan Bowman catches a break. It was clear on the replay that Bowman still had possession of the ball as he was attempting to pass it on the 1st Down play after Texas extended their lead to 24-14.  We were surprised that it took so long for the replay crew to overturn the fumble.
And then three plays later, the "cramps" come out for the Longhorn defense.  Doesn't matter who the coach is at Texas, if the Tech offense strings together two or three passes for a gain, someone seems to just magically go down to stop the momentum. Hockey has an embellishment penalty and something similar should be added to football.
It feels like forever since we've seen a true shootout at Jones AT&T Stadium. A score of 24-21 with 4 minutes left in the second quarter sure seems like a shootout in the making.
Two great special teams plays for Texas Tech in the first half, the onside kick and then the blocked punt.....  and two interceptions thrown by Bowman on the ensuing drive. You can't expect to win a game when you're losing the turnover battle.
Well, it's halftime. Texas leads Texas Tech 31-21. We'll see how the rest of the game goes.
More From Talk 103.9 & 1340