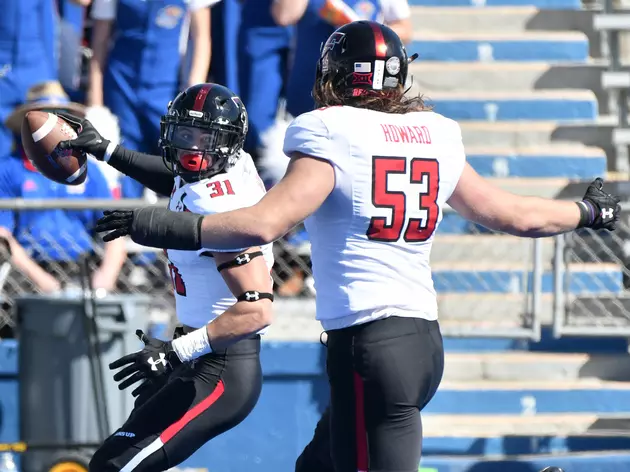 According to the Big 12 Preseason Awards, Texas Tech Has the Best Defense
Ed Zurga, Getty Images
The Big 12 Preseason teams and awards dropped Wednesday afternoon, and they pretty much confirmed that Texas Tech will have the best defense in the Big 12 in 2018.
It's wild, I know. Take a minute and let that soak in.
Texas Tech. Best defense.
In fact, Texas Tech has been tweeting about it all off-season, along with the hashtag #thingshavechanged.
Texas Tech led the way on the defense with three selections to the All-Big 12 Preseason squad. Dakota Allen, Justus Parker and Jah'Shawn Johnson were the selections, and were all on the 2nd team All-Big 12 last season. Texas, Iowa State and Kansas both had two selections, while Oklahoma was shutout on the defensive side of the ball.
I could even make the argument that guys like Eli Howard and Broderick Washington deserve some recognition, but I don't want to get greedy.
What's more surprising, or unusual, is that Texas Tech doesn't have a single offensive selection for the preseason team. Oklahoma, who was shut out of the defensive team and had their kicker get the punter and place kicker nod, leads the way with five offensive selections.
It's not like a ton of Red Raiders got snubbed on offense, either, with only Jack Anderson on the offensive line having a legit argument for deserving a spot on the squad. I think Tre King could have a big season, but does he warrant consideration here? I do think that Texas Tech will land a receiver on the list, but I don't know which one it will be. Easy money is on whoever is running the routes that Keke Coutee, Jonathon Giles and Jakeem Grant ran.
You can check the rest of the awards here:
Watch Texas Tech Football's 2017 Highlights
More From Talk 103.9 & 1340