5 Reasons Why Texas Tech's Antoine Wesley Is Becoming a Fan Favorite
Paul Roberts, 1340TheFan.com
Antione Wesley has been a key cog in the early success of Texas Tech and the number one total offense in the Big 12. There are a lot of reasons Antoine Wesley has endeared himself to the Red Raider faithful but I have compiled a short list of five reasons of why Wesley has become an absolute fan favorite.
1. He does hilarious things, like running out of the postgame press conference
This was after the Kansas game, where Antoine Wesley had a monstrous performance, catching nine passes for 155 yards and a touchdown. He's at the podium, and you can totally tell he's scheming something. He's just waiting for the final question to be levied before he bolts out of the room, leaving everyone wondering what was so important. I would assume it's that he wanted to celebrate with his teammates.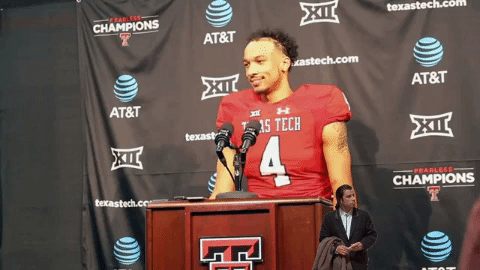 2. Coach Kingsbury called him a great role model
This one is pretty self-explanatory. In a world of college football, where players leave in a revolving door from any program that isn't giving them playing time, Antoine Wesley waited his turn, and is now reaping the benefits.
That sets a great example for all of the younger guys on this roster right now.
"The focus, the attention to detail from walkthrough on is through the roof," Kingsbury said of Wesley in a recent press conference. "Just the way he handles his business on and off the field has been impressive."
3. His stats
This is the most obvious step to being a fan favorite: produce on the field. If that was the only prerequisite, then Wesley is passing with flying colors. He has six games with more than 80 yards receiving. In all seven games of the season so far, he's had more than 65 yards. He set a record with 256 yards against Houston. He has six touchdowns. He leads the Big 12 in receiving yards and receptions per game.
4. Big plays
If you love big plays, you love Antoine Wesley. If it seems like you see a huge play from Wesley every week, that's because you do. The Houston game was full of Wesley plays. The West Virginia game featured a great catch. The most recent great play came during the game against Kansas when he caught a one-handed touchdown.
He also mossed a fool. Poor guy. You can see that below in the next section.
5. His celebrations
These generally come after his numerous big plays.
Here's when he Mossed a Kansas DB and pulled a Mutumbo:
Overall, it's incredibly easy to root for a guy who is out there enjoying his life. Yes, he's great and that helps the team succeed, but Wesley is also a joy to watch for every Red Raider fan.
Texas Tech heads into the final five games of the 2018 season with a 5-2 overall record. Their next game is against Iowa State (3-3) in Ames, with a bowl game berth for the Red Raiders on the line.
The game is slated for an 11 a.m. kickoff on ESPN2. SportsRadio 1340 The Fan will air Countdown to Kickoff with Rob Breaux and Karson Robinson from 9 -11 a.m. Listen on the air (1340 AM), online or with the free 1340 The Fan app.
Texas Tech 2018 Home Game Highlights
More From Talk 103.9 & 1340