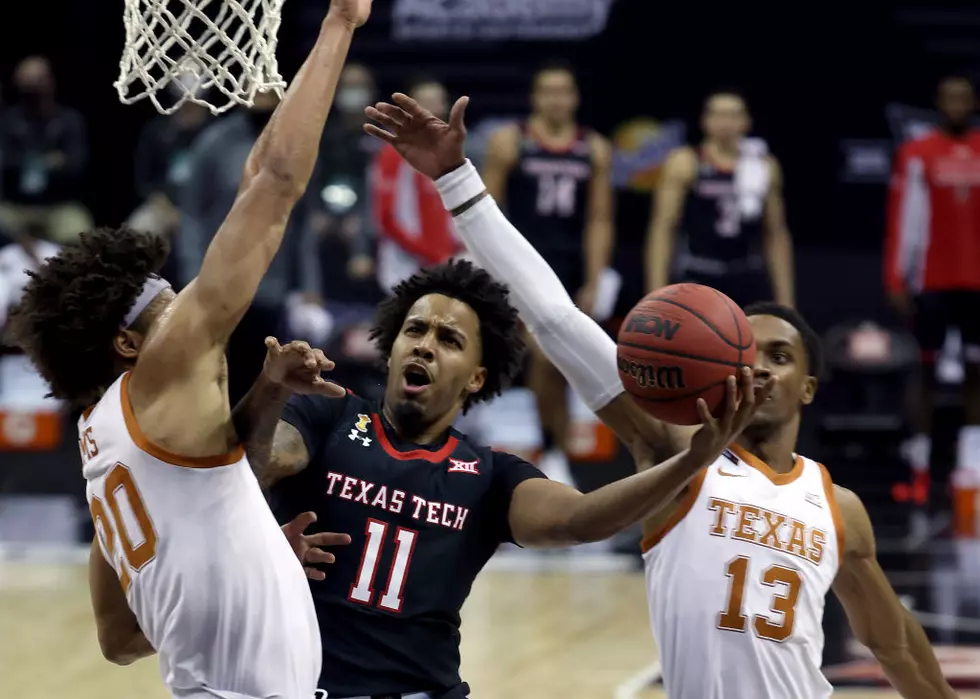 The Big 12 Tournament Doesn't Matter, Texas Tech Was Always a 5 Seed
(Photo by Jamie Squire/Getty Images)
Texas Tech basketball lost to Texas in the quarterfinals of the Big 12 tournament 67-66 and that would have been really bad except the Big 12 Tournament doesn't matter. On Wednesday, March 10th, the NCAA Tournament Selection Committee met and put in their first ballots for how the brackets should be selected.
Wednesday. Before the Big 12 conference tournament started.
This isn't a reaction to the loss either. Losing by one after controlling the entire game except for two runs against a higher-ranked team doesn't matter to me, I've been saying on this website, Ryan Hyatt's Raiderland on weekdays from 11 am to 1 pm, and on my own show on Saturdays from 10 am to 12 pm for months that the Big 12 tournament was worthless.
Everyone still in the Big 12 tournament is in the field.
Oklahoma State? 3 seed. Kansas? 3 Seed. Baylor? 1 seed. Texas? 4 seed.
The teams who lost yesterday? Kansas State is out, but they already were. West Virginia is a 3 seed, Oklahoma is still a 7 seed and Texas Tech is still a 5 seed.
That's the way it was Wednesday, March 10th, and that's how it's going to be on Selection Sunday.
As far as the Texas Tech game goes and how they project into the tournament, I sure hope the Red Raiders don't have to play a Big 12 team before the Sweet 16. They haven't fared well against the top-seeded teams and are dead even with Texas.
My final point goes out to those people who say they'd rather be a 6 seed rather than a 5 because the 5 seed is upset more. I know that's what people say, but it's simply not true. According to NCAA.com, the most likely upset is the 10 over the 7, followed by the 11 over the 6, then the "dreaded" 12 over 5 upset.
The 12 seed is home to a flailing power 5 team or a bad mid-major that got hot and won their conference tournament. The 5 seed is home to a team that had to play great teams all season and fought tooth and nail, but couldn't quite win enough games to be a higher seed. If iron sharpens iron then Texas Tech is hard as hell leaving the Big 12 playing top-20 teams nearly every week. The only other conference doing that is the Big Ten, and I'd take the Big 12 to get more teams to the Sweet 16 than any other conference.
Furthermore, to get to the Sweet 16 a 5 seed likely has to beat the 4 seed while the 6 seed has to get through the 3 seed. FURTHERMORE, there have been seven 5 seeds to make it to the Final Four while a 6 seed has only gotten to the last weekend three times. In that regard, it's better to be an 8 seed to get to the Final Four where 8 seeds have played five different times.
All that being said, Texas Tech will be a 5 seed.
The 8 Best Wins in the United Supermarkets Arena During the Chris Beard Era
More From Talk 103.9 & 1340