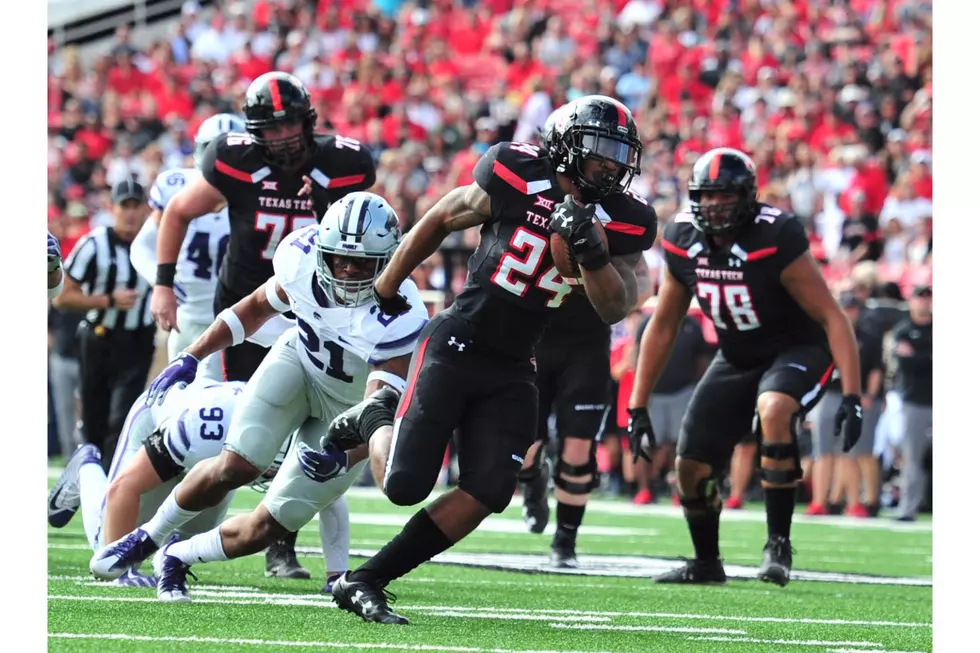 Texas Tech Spring Spotlight: How Skilled are the Skill Positions?
Ashley Wirz, 1340TheFan.com
Not since the Kingsbury Era started in 2013 have there been so many questions as to who would lead the team in rushing and receiving. Back in 2013 you didn't have a healthy quarterback who had ever taken a collegiate snap, your best returning receiver, besides Eric Ward, was a tight end named Jace Amaro who had injury concerns and had less than 500 yards in his career and you had several competent running backs but no lead dawgs.
Heading into 2014, the future was bright with Davis Webb at quarterback. The receiving corps had Jakeem Grant, Bradley Marquez, Reginald Davis and a freshman class including Devin Lauderdale and a sophomore named Dylan Cantrell. At running back you were comfortable enough with DeAndre Washington to move Kenny Williams to linebacker.
From the Spring of 2015 to the Spring of 2016 there wasn't a single worry about the skill positions at Texas Tech, and Kliff Kingsbury consistently fielded a top tier offense with that talent. There's no argument there.
Last Spring, despite your memory, the quarterback position and receiving corps were locked in while the running back position was a full on mystery.
This Spring, the year of our Lord 2018, there are legitimate questions about every single skill position on Texas Tech's roster.
The quarterback questions were exhausted when I took a dive into who would be named the starting quarterback in 2018. I encourage you to read that write up, not only because I wrote it but also, because I wrote it.
With quarterback out of the way, let's jump into the receiver position.
We can safely break down the receivers at Texas Tech into two groups. Guys who are on the roster right now, and those who aren't. Also, to avoid writing 2,000 words I'll only mention guys who I think have a chance to start for Texas Tech in 2018.
The safest bet to start for the Red Raiders in 2018 is Donta Thompson, the tight end. Thompson caught one ball in 2017 but was used as a blocker last season and will see his role expand in the Kevin Johns / Kliff Kingsbury mashup offense this season. Thompson will be used more similarly to Jace Amaro as a flex tight end and will be a safety blanket for whatever quarterback starts next season.
The next two guys I want to mention are De'Quan Bowman and JoJo Robinson who will slot into the void of Keke Coutee, Jonathon Giles and Jakeem Grant. It's the most productive position on the team and one of these two is likely to win the role after solid Spring production.
Both Quan Shorts and T.J. Vasher started games last season and will have the opportunity to start in 2018 but Shorts might get outplayed by Myller Royals, a true freshman who had a great spring, and Vasher is great but only in bursts. The rest of the time Vasher looks uncoordinated and can't catch, but he seriously does have great flashes. Depending on which Vasher shows up in the Fall of 2018 he can be incredibly productive or the next Derrick Willies.
The last remaining wildcard for the guys on the roster right now is Antoine Wesley who caught 10 passes as a sophomore and looked good doing it. He's a 6'5" inside receiver who could be a breakout star in 2018, but dealt with injuries this Spring.
Now we can talk about the guys who aren't on the roster yet, but will be next season.
Seth Collins is a name that could be very familiar next season after he announced his decision to transfer to Texas Tech this week. He's 6'3" and already has FBS experience playing 10 games as a receiver in his sophomore season at Oregon State. The former quarterback has the potential to turn heads for the Red Raiders on day one.
Another name who you should be learning is Erik Ezukanma. The 6'2" receiver held offers from Arkansas, TCU, Ole Miss, Utah, Houston and Washington State. 13 total. Easy-E racked up more than 2,000 yards and 30 touchdowns in his final two seasons at Timber Creek in Keller, Texas. Myller Royals, who enrolled early, and Erik Ezukanma could potentially be your outside receiver duo as a pair of true freshmen.
Corey Fulcher is another freshman who could make some noise next season. Fulcher was a running back and receiver who had over 1,000 all purpose yards and more than 50 touchdowns.
Bottom line is that there is a ton of potential in this receiver corps, but there are zero names right now that are written on the depth chart in pen. Even Donta Thompson could be surpassed by FB/TE hybrid Tyler Carr or someone who isn't on the roster yet.
I wouldn't be surprised if Kingsbury added a few walk-ons and another transfer as well.
The running backs at Texas Tech are just as big of a mystery as the receivers are. After losing Justin Stockton to graduation, there isn't anyone on the roster with more than a single year of experience.
I'm really high on both Da'Leon Ward and even higher on Tre King but neither have experience being 'The Guy" in an offense predicated on the running game, which is what might happen in 2018 at Texas Tech. If Kevin Johns and Kliff Kingsbury can deftly blend their systems it could be a revolutionary step at Texas Tech and there could be an explosion of offense at Texas Tech similar to what happened in 2015, where there was 2,000 plus yards of rushing and 4,500 yards of passing.
I seriously think this and am not using hyperbole. Nic Shimonek nearly broke 4,000 yards passing so it isn't ridiculous to assume Jett Duffey can while also providing a boost to the rushing yards.
Barring injury and mysterious time off, Tre King and Da'Leon Ward will get the majority of the snaps with Desmond Nisby being the change of pace bruiser he was last season. Nisby doesn't fit the one-cut zone scheme that Johns implemented as well as Ward and King, but was successful last season when he wasn't fumbling. Nobody wants to tackle Nisby in the 4th quarter.
The only thing for certain about the running back situation is that it will be by committee.
My final paragraph is going to be a shout out to the Texas Tech roster that lists THREE players as fullbacks. Tyler Carr, Mason Reed and Henry Howard. Both Reed and Carr will be on the field a ton and won't get nearly enough credit if the rushing attack is successful in 2018. Here is that praise. Here is that credit. Fullbacks 4 LYFE.
More From Talk 103.9 & 1340