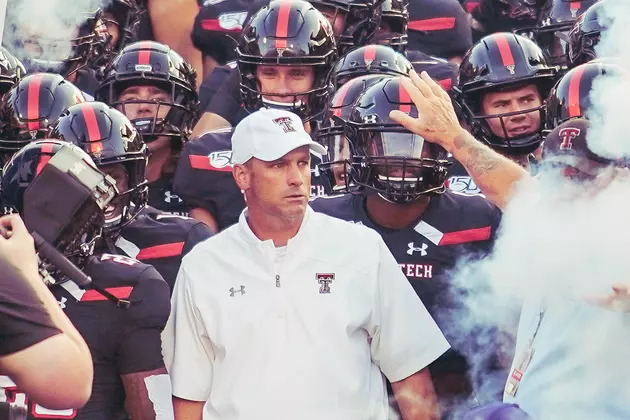 Matt Wells Seen Recruiting at Klein High School in North Houston
Kylee Morris, KKAM.com
Enter your number to get our free mobile app
Texas Tech Football head coach Matt Wells was recruiting in Houston, Texas earlier this week, making a stop that made some heads turn at Klein High School.
According to one of Klein's assistant coaches, Wells was recruiting Bearkat tight end Mason Tharp. Tharp is being recruited by a number of colleges, including Duke and Rice. His 24/7 Sports profile lists him at 6'7" and 225 lbs.
I would love to see a tight end with Tharp's height get added to the Texas Tech offense. I bet he could reach 250+ lbs after a year or two in Texas Tech's strength & conditioning program. In 2019, Tharp had 30 receptions for 523 yards and 12 touchdowns. 2020 will be Tharp's senior season.
A quick side note: I graduated from Klein in the 1990s, and the campus houses the Klein ISD varsity football stadium. With the extra space around the school for parking lots, and practice fields, we had helicopters on-campus even 20 years ago. Usually, it would be one of the TV stations sending a sports photographer to get footage of a Friday night football game.
Talk about the latest Texas Tech Football news during The Rob Breaux Show, weekdays 9-11am on Talk 1340 and the KKAM app.
More From Talk 103.9 & 1340