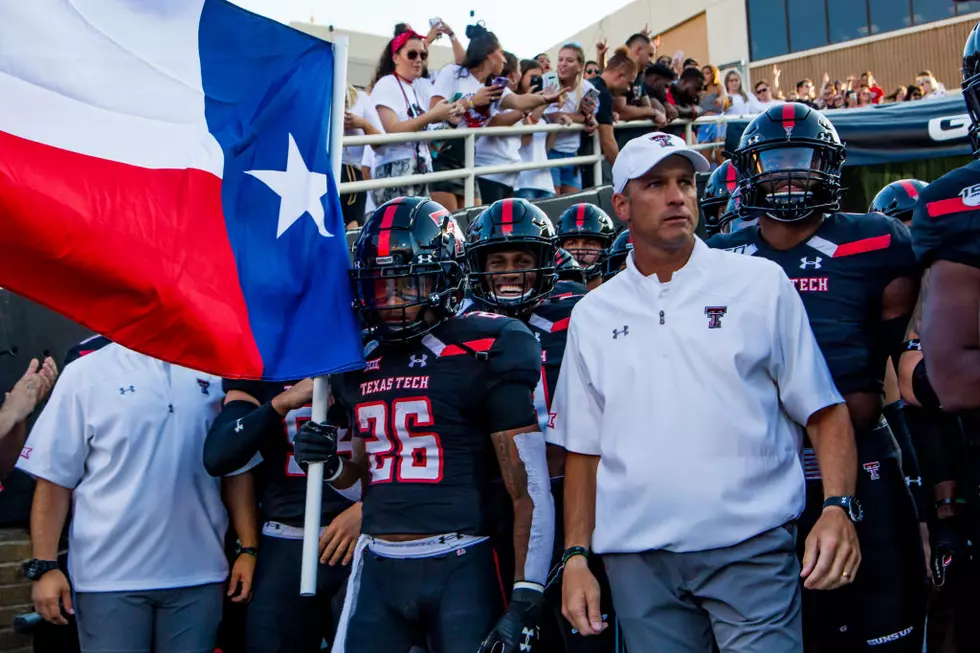 Wild Weekend: Wikipedia Fires Wells, Texas Tech Fans Lash Out & Assistant Coach Claps Back
John E. Moore III/Getty Images
Update: Matt Wells was reportedly fired for real on Monday. [More info]
On Saturday, October 23rd, 2021, Matt Wells was fired. No, not by the decision-makers or by anyone at Texas Tech University, although there's plenty of wind in the wire that those decisions are at the very least being discussed behind closed doors.
No, Matt Wells was fired by the fanbase on Saturday after that atrocious loss on Saturday to the Kansas State Wildcats. The Red Raiders led 24-10 at halftime. Then, Kansas State scored 15 in the second half, and the Red Raiders were shut out. The final score was 25-24.
It won't be the last game Wells ever coaches for Texas Tech, but it's certainly the beginning of the end. At least if the fanbase has anything to do with it.
Just a few of the thousands of tweets you can find by hitting a few key search words on Twitter.com:
Wells was even fired on Wikipedia briefly before someone changed it back. For several hours his page read "Former Head Coach" and had October 23rd as his last day at Texas Tech.
It's understandable to be frustrated if you're a Texas Tech football fan. After more than a decade-long streak of going to bowl games and having average to above-average success as a football program, the last three coaches have been progressively worse.
Tommy Tuberville hated the city and took a worse job to escape. Lubbock's prodigal Air Raid son Kliff Kingsbury returned and got the offense to the height of the mountain top, but buried the defense in a crater. And now, Matt Wells sits in his third season in Lubbock and has yet to win back-to-back Big 12 games.
The fans have every right to voice their frustrations, and Twitter is an easy place to do that. Maybe too easy. Not only have fans been voicing frustrations, but members of the coaching staff have also been voicing frustrations right back.
Not prominent members, but an assistant defensive line coach told one fan "who cares..." after they said they were about to be fed up. The same coach clapped back at a fan who said, "there is nothing more painful than being a Texas Tech football fan." The coach responded, "Yes there is.. being associated with you." The tweets have since been deleted.
Terrible look. Just a brutal look. The podcast that Ennis called "fair weather" has been one of the prominent voices backing Wells and the team this season when people were fleeing the bandwagon by the dozens. I don't know that there's another fan as prominent on Twitter just because she's a fan of Texas Tech than the woman Ennis said he didn't want to be associated with.
When Kingsbury was hired by Texas Tech in 2013, he entered with a clean slate. He replaced a guy who had turned the fanbase against the program by not liking the city and being vocal about it.
When Wells was hired, a segment of the fanbase never bought in, and Wells was saddled with both Kingsbury's and Tuberville's baggage. Fair or not, Wells had to fight really hard to be accepted. Then, he went 4-8 his first season, followed by a 4-6 second season with a collapse to Texas at home and some braindead coaching maneuvers, like preplanning an onside kick against Oklahoma State.
He hasn't fostered any community with the fanbase and couldn't even name anything credible that he liked about Lubbock on a recent coach's show. Now, his staff is biting back against the fans. The situation is honestly becoming a bit toxic...with an obvious end in sight.
The end is now inevitable, and I'm more than comfortable saying that there will be a new coach for the Texas Tech football program in 2022. I wonder if the new guy will make his job personal on day one, or if he'll wait till year three before doing so.
18 Guys Who Could Coach Texas Tech Football in 2022
This list is by no means complete, it's just some names I've seen circulating on social media and message boards. Along with the usual suspects, I've added some wild cards to make it a little spicier.
This is a list I've come up with, but the first several names on this list have definitely been contacted and could be potential hires.
CHECK IT OUT: 100 sports records and the stories behind them
More From Talk 103.9 & 1340