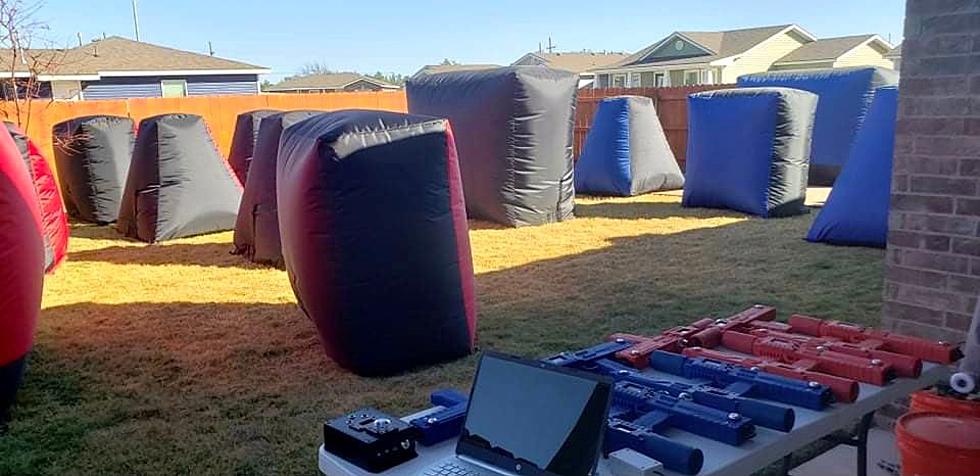 Laser Tag at Home: New Lubbock Business Brings the Fun to Your Backyard
Laser Odyssey via Facebook
No matter my age, I love going out and playing games no matter where it is. Sometimes it's hard though, like if you're with a bunch of people you don't know or the place is packed. Well, a new spot opened in Lubbock to fix that exact problem.
Laser Odyssey is a mobile laser tag place that comes directly to you. Whether it's just for fun, a birthday party or maybe team bonding, this is a great way to have a unique and safe time.
The owners, the Giorgianni Family, moved to Lubbock last year after Sara got a dream job. Seth wanted to start his own business and thought this would be a perfect fit because he's just a big kid and wants to always play games.
"I liked the idea of being able to start small and bringing something really fun and different to the community," Seth told us.
The whole idea is they bring the taggers and inflatable bunkers to you, no matter if it's a park, small backyard or gym. They can set up anything from simple games for little kids or more complex configurations for older kids and adults looking to be challenged.
Below is a video of the kids at the YWCA having too much fun with Laser Odyssey. Honestly, I wish I could play with them.
Laser Odyssey offers several different modes of play: Capture the Flag, Free for All, Team Deathmatch, Domination and more. No matter the size of the party, they said they can do it. They even do discounted prices for schools, churches and non-profit groups.
You can visit Laser Odyssey's official website or check out their Facebook page for more info on all the fun they're bringing to the Hub City. Game on!
10 Most Expensive Neighborhoods in Lubbock
Here are the 10 most expensive neighborhoods in Lubbock based on data found on
Neighborhood Scout
.
20 Texas Places We Have All Been Saying Completely Wrong
More From Talk 103.9 & 1340