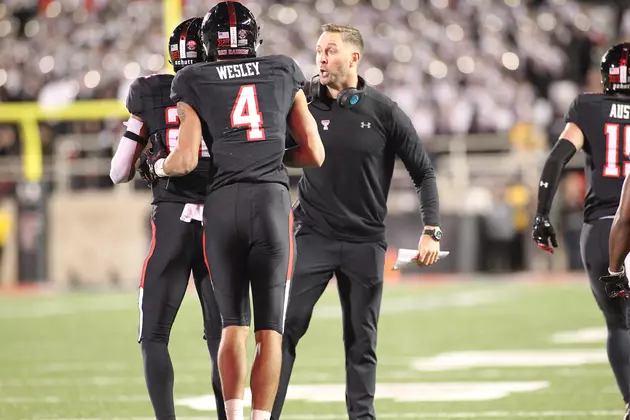 An Open Letter to Kliff Kingsbury: Thank You
Paul Roberts, 1340TheFan.com
A decision on your job security has not been officially announced yet, but Kirby Hocutt was mysteriously absent from the post-game press conference after today's game.
It's not looking great. (Update, 11/25, 12:14 p.m.: According to two outlets with inside sources, Kingsbury has indeed been released. Read more here.)
This letter isn't to speculate on the outcome of Hocutt's final decision, and I don't envy the position he's in, but I do think a split can be mutually beneficial as you would undoubtedly get another job at a name brand program as an offensive coordinator or even make the jump to the NFL and its evolving offensive game plans. The Dallas Cowboys are in need of an offensive guru. You might even go dominate the AAC or Conference USA.
The move would also allow Texas Tech to move on to a coach with immeasurably less pressure than you have carried in the last six seasons as the head coach. Of course, I'm not going to rule out another season and a final shot at redemption, though that seems less likely today than it did in weeks past.
Whatever happens in the next 24 hours, whether you are job hunting or recruiting for Texas Tech, I just want to say thank you for what you have given to Texas Tech University and the City of Lubbock.
It can't be easy to carry the weight of a program on your shoulders with absolutely zero experience as a head coach and less than three years of experience as an offensive coordinator, but you did just that. Hell, you sacrificed a great job at Texas A&M and a Heisman-winning quarterback to come back to Lubbock and try to turn things around.
After six seasons and a losing record, that didn't happen. But I still respect the job that was done with the hand you were dealt.
To be completely frank, I get the #firekliff crowd on social media. What I don't understand is the blatant disrespect you've been getting railed with. Texas Tech has had a top 15 offense for six straight years with a revolving door at QB. You worked hard. You represented the school well, even when your players didn't. You always took the high road, even when the number one overall NFL draft pick dragged your name through the mud. That's not something I could have taken gracefully.
You have earned my respect, and I'll always support you as a man and will follow your career wherever it takes you.
If you do get the axe here at Texas Tech, I have no doubt that you will land on your feet.
It sucks, but the business of football sometimes gets in the way of the heart of it.
Thank you, Kliff, for giving your all to Texas Tech for the last six seasons. It was a hell of a ride.
Watch: Texas Tech 2018 Home Game Highlights
More From Talk 103.9 & 1340