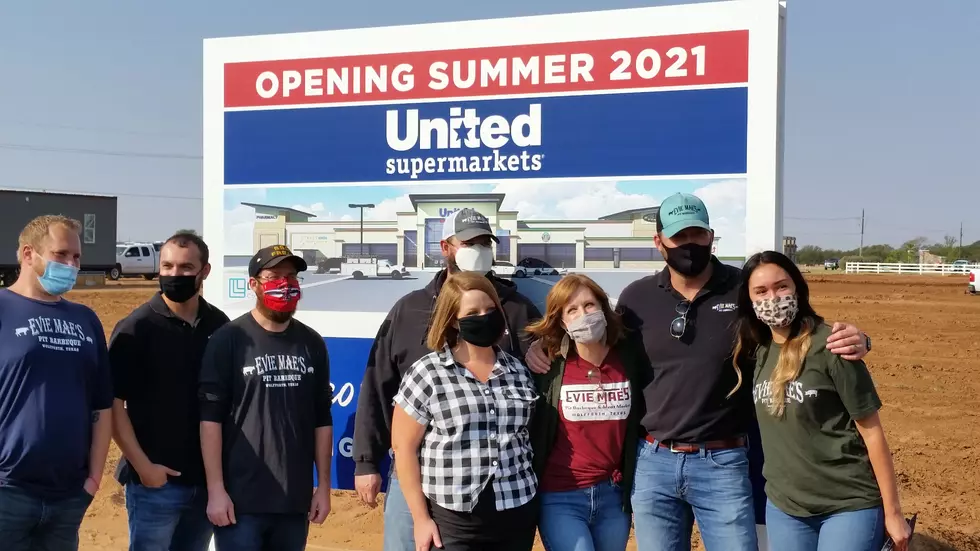 United Supermarkets Holding Hiring Event for New Lubbock Store
Evie Mae's BBQ Team at United Supermarkets 114th & Slide Groundbreaking (Rob Snyder, KFYO.com)
United Supermarkets is getting close to opening its newest store at 114th Street and Slide Road in southwest Lubbock. Later this week, United will be holding a hiring event to fill numerous positions.
Starting Thursday, May 20th and continuing through Saturday, May 22nd, United Supermarkets is holding what they're calling a "mass hiring event" for the new store. The hiring event for each of the three days will be held at Church on the Rock, located at 10503 Slide Road. The hiring event will be open on Thursday and Friday from 10 a.m. - 7 p.m., and Saturday from 10 a.m. - 6 p.m.
United Supermarkets say the positions being filled for the new store will, "...offer weekly pay, flexible scheduling, a positive work environment, college saving plans, as well as full-time and part-time employment options. Team members also have access to the team perks program that allows them to take advantage of grocery discounts."
The new United Supermarkets store at 114th Street and Slide will feature wider aisles, more spaced-out checkout lanes and an in-house Evie Mae's BBQ. (Side note: one of the best items on Evie Mae's menu are their ribs. Even if you get a sandwich plate for lunch, figure out a way to squeeze in their ribs; the meat perfectly falls off the bone.)
Other amenities for the new store include: An in-house Evie Mae's Barbecue; a Tap House with craft beer and wine; a station for Asian bowls called Chopsticks as well as fresh sushi; Texas Take-out; Starbuck's coffee; Streetside grocery pickup and delivery; as well as a full-service bakery, floral department, pharmacy, and meat market counter service.
The new United Supermarkets location at 114th Street and Slide Road is United's second location in Lubbock located south of 98th Street. The other location south of 98th is at FM 1585 and Indiana Avenue.
KEEP READING: Here are the best places to retire in America
More From Talk 103.9 & 1340