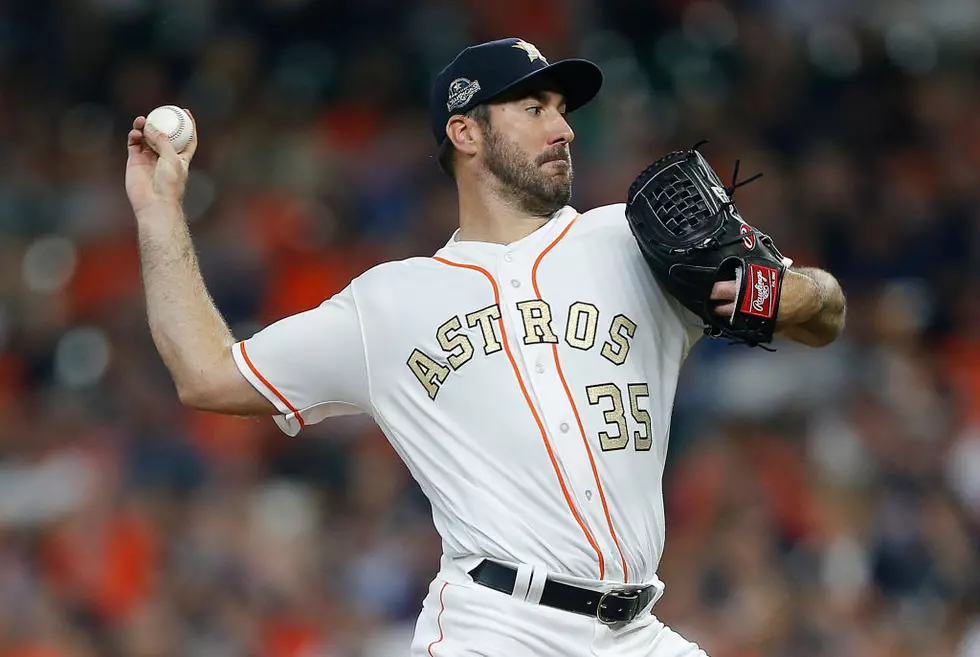 The Astros Unveil Banner and Get Their World Series Rings
Getty Images
The Houston Astros won the 2017 World Series and now they have unveiled the Banner that stands in the outfield and the championship rings in their first home series of 2018.
Also, just before we get into the banner and the rings, the championship jerseys the Astros wore are great. If I was an Astros fan or the kind of person who wears jerseys, I would definitely buy one of those bad boys. That gold lettering is just too sweet.
The banner is gold and navy and is erected in the outfield as a solid flying pennant.
It wasn't an entirely smooth reveal as the cover on the golden pennant wouldn't fall off as planned. They had workers blowing the banner with a leaf blower and climbing the ladder behind the pennant to try and knock the flowing black cover off the structure.
The worst, or best, part of the whole ordeal is that the Astros PA guy had to restart the music that was being played for the event. The banner took longer to fall than expected to say the least.
Another great moment in the whole ordeal is the reaction of the players who are staring in disbelief that it's that hard to drop a banner.
The ring ceremony for the Astros went off much better, and the rings are pretty freaking great.
The story behind the rings is great, the 11 hand-cut diamonds and the intricate details, but even without the story the rings just look perfect. These have to be up there with some of the best championship rings of all-time.
The gold and silver layout. The details inside. The diamond H logo standing off the orange and navy.
I cannot say enough about these rings, congratulations to the city of Houston.
The Astros also gave rings to Astros Hall of Famers in a show of gratitude for everything they did for the history of the organization.
Now that the World Series Rings and Banner have been revealed, Astros fans can stop talking about last year and start living in the present again.
A present that has the Astros off to a 5-1 start.
More From Talk 103.9 & 1340