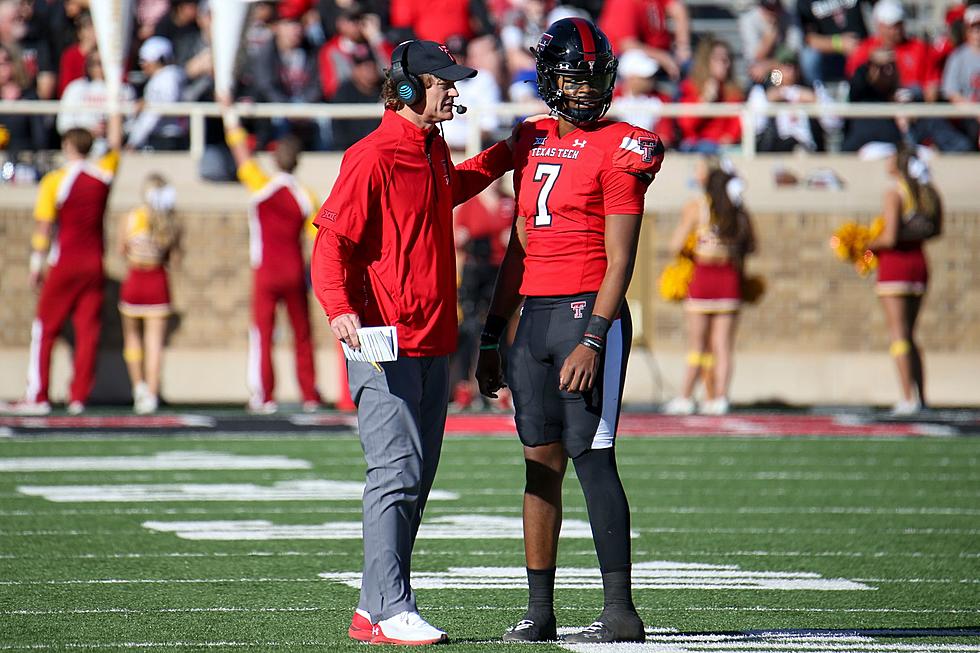 Texas Tech's New 'Pumpjack Mentality' is Undeniably West Texan
Paul Roberts for kkam.com
A couple of former Tigers banded together this weekend to shock the Big 12 and beat Iowa State for the first time since 2015.
Texas Tech interim head coach Sonny Cumbie, a Snyder Tiger in his high school playing days, called a masterful game which was executed by former Frenship Tiger quarterback Donovan Smith in his first career start with the Red Raiders.
Cumbie's road to starting at Texas Tech is much different than Smith's, but the field-rushing euphoria on Saturday night's 62-yard walk-off field goal won't overshadow the impressive performance from the freshman quarterback.
Everything about Texas Tech beating Iowa State in Lubbock this weekend shows toughness. A physical toughness to beat a team that has owned you for five seasons and plays a tough brand of football. Mental toughness to respond after a head coach is fired and a new one is hired. It also took toughness to respond to adversity during the game when seemingly every call went Iowa State's way.
What kind of people respond to adversity with physical and mental toughness?
West Texans.
It's a part of Texas Tech football that's been missing for a long time. Spike Dykes embodied West Texas Tough. Mike Leach's teams were full of players like Cumbie and BJ Symons and Cody Hodges who grinded until it was their time to shine. Jamar Wall, Ryan Aycock, and Kevin Curtis, among others, embodied the West Texas Tough mentality.
Somewhere along the way, that toughness and edge were lost. You've seen the program lose close game after close game because the attitude of the program was a loser mentality. Former head coach Kliff Kingsbury talked every offseason and at a bunch of press conferences about finding a killer instinct.
Sure, there were other wins in the past five years that made it seem like the culture was shifting. Beating Oklahoma State in Stillwater in 2018 and then in Lubbock the following year come to mind, but neither of those wins was followed up with any kind of momentum.
The Iowa State win has already created momentum for the future. New head coach Joey McGuire capitalized on the win by flipping 4-star Post native Isaiah Crawford to Texas Tech for the 2023 class. The win also clinched a bowl opportunity for Sonny Cumbie and the current Texas Tech team.
The game also spawned a brand new mentality.
After the Oklahoma game, Texas Tech went into the bye week with little to no momentum left in their tanks and a schedule of three ranked teams to close out the year. They came out of the bye week with a pumpjack chain, a literal pumpjack, and a brand new mentality.
In the postgame press conference after the Iowa State win, Cumbie spoke about breaking the mentality. He referenced the safety against Kansas State as a moment that deflated the Texas Tech sideline, but he didn't want to see that again this week. He focused in the bye week about breaking the cycle of 'oh, here we go again' that's often referred to as Typical Tech.
"If you want to do something about it, you gotta dig your heels in and fight out of it," Cumbie said in the postgame conference. "You have to have a mindset that's set on not having the same results."
About that pumpjack, though...
In the postgame presser, Cumbie said he wanted to keep what it meant to the team in the locker room. On the broadcast, the sideline reporter said Cumbie explained it like this: "If it's cold, hot, night or day it doesn't matter. The pumpjack works. If the operator is watching it or if no one is watching it. The pumpjack works." She continued: "If a part breaks, guess what, you replace it and it keeps on working."
"Same thing with Texas Tech football," she finished the story.
Fans certainly took notice of the pumpjack during the game.
It was especially cool to see the players run to the sideline to pump the pumpjack to signify hard work after big plays:
It even spawned some t-shirts:
I saw a lot of people this weekend attribute the play on the field to some kind of Joey McGuire effect. I think McGuire has created a lot of buzz around the program, but he's not a magician. He's working hard recruiting and doing more things to get Texas Tech back to West Texas Tough -- like locking in a 4-star commitment from Post, Texas for the 2023 class. But the culture shift that's taking place inside that locker room? That's the current staff led by Interim Head Coach Sonny Cumbie.
It might already be Joey McGuire's program, but this is still Sonny Cumbie's team.
I'm not ready to call that the team will win out, and I'm not denying that McGuire has brought a certain amount of energy, but I can almost guarantee you'll see a West Texas tough Texas Tech team against Oklahoma State in Lubbock and against Baylor in Waco.
It's all about the Pumpjack Mentality.
Highlights: Texas Tech vs Iowa State
The Texas Tech Red Raiders (5-4) square off against the Iowa State Cyclones (6-3) at Jones AT&T Stadium in Lubbock, Texas. (November 13th, 2021)
More From Talk 103.9 & 1340