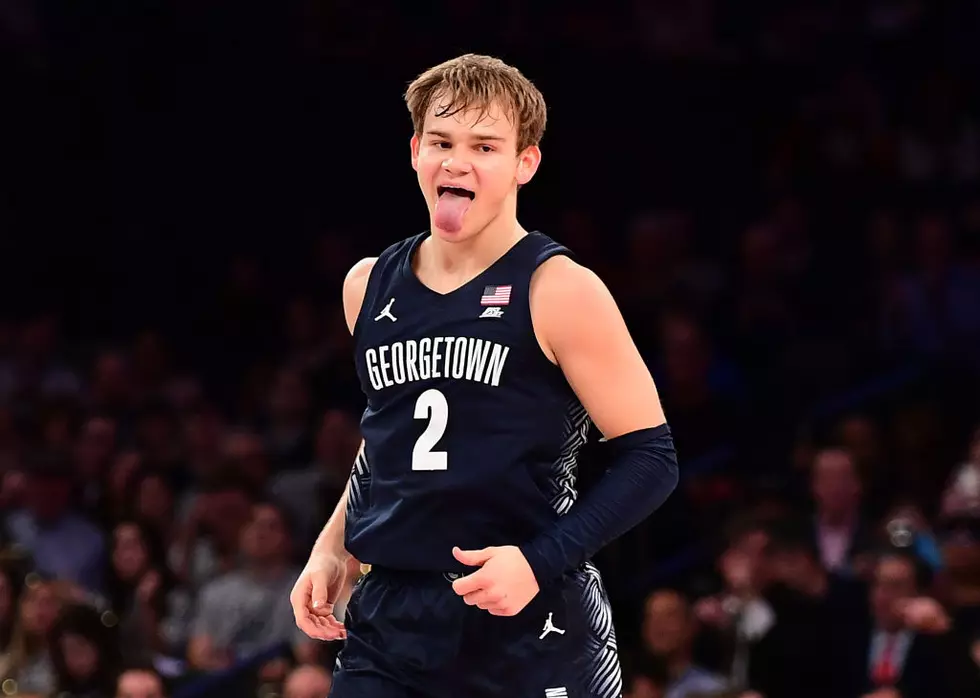 Texas Tech Basketball Gets Another Coveted Transfer
(Photo by Emilee Chinn/Getty Images)
It's become commonplace when writing about a Texas Tech basketball offseason to mention highly rated recruits, coveted transfers and professional dreams. The newest Red Raider covers all three of those topics at once.
Mac McClung was a three-star prospect out of high school that carried a considerable amount of hype and was nicknamed White Iverson on social media. Now, two years later, McClung is a coveted transfer that is leaving Georgetown after removing his name from the NBA draft.
After releasing a list of seven potential landing spots last week that included Auburn, BYU and Memphis among others, McClung committed to Texas Tech with a simple two word tweet: Wreck em.
McClung was a proficient scorer as a Hoya, averaging 15.7 points per game in his sophomore season and 13.1 as a freshman. His career high came as a freshman when he dropped 38 on Arkansas-Little Rock. Against two Big 12 opponents as a sophomore he averaged 25.5 points scoring 33 against Oklahoma State and 19 against Texas.To round out the stat sheet he averaged more than 3 rebounds per game, a couple of assists and more than a steal per game.
Efficiency wasn't a strong suit in the Georgetown offense for McClung but the change in roles and influx of talent around him should greatly improve his consistency as a shooter. McClung is as talented at getting to the rim as any point guard in the country and shoots 80% from the charity stripe. That combo, combined with his veteran presence should help Texas Tech tremendously in the 2020-21 season.
Another thing you get with McClung that I think Texas Tech was missing last season is grit. You saw it with Kevin McCullar late in the season and in the Louisville game from Avery Benson, but for the most part, the energy from Texas Tech was mostly on the sideline with Chris Beard. The team looked flat often and for the first time in the Beard Era consistently laid eggs in the second half of games.
McClung is not short on edge and brings a rim-rattling style of play to Texas Tech that just seemed to be missing last season. If he can infuse some of that cocky demeanor into his teammates and breathe some confidence back into the court, Texas Tech will be dangerous in 2021.
Just check out these highlights!
That's also all dependent on if McClung can get a waiver to play immediately. I'd like to say I'm confident in that happening because of his situation, but I can be quoted as saying Joel Ntambwe was 100% going to get a waiver last season and I don't want to make that mistake twice. I will go ahead and assume that the waiver process will be a little laxer this season in the wake of a national pandemic. Who really knows with the NCAA though.
Matt Wells Shows Off His Crib During Quarantine
More From Talk 103.9 & 1340