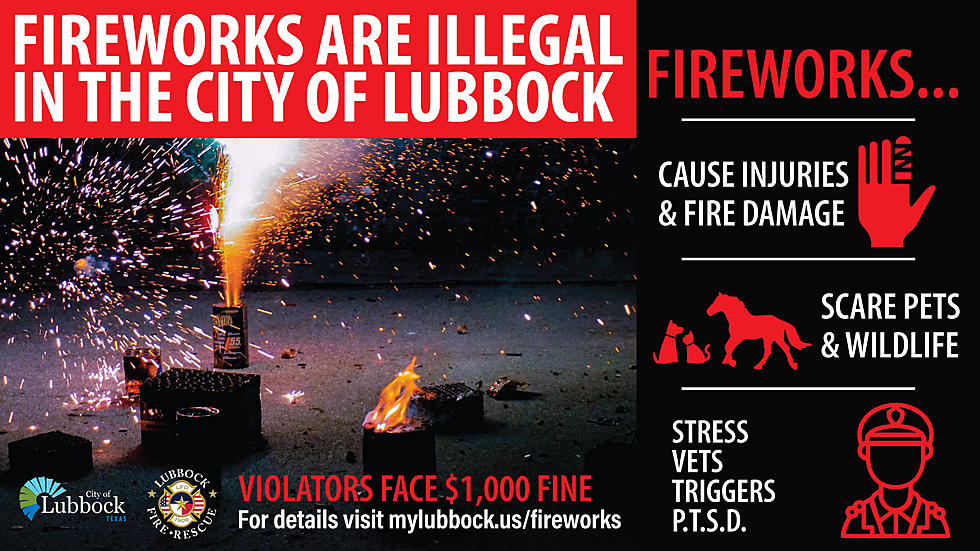 Awesome Places to Buy Fireworks In & Around Lubbock County
Lubbock Fire Department via Facebook
The 4th of July is this weekend, and you know what that means: fireworks.
As usual, fireworks are not permitted within Lubbock city limits. You can face up to a $1,000 fine for setting them off in the city. The Lubbock Police Department and Lubbock Fire Department are encouraging citizens to set off their fireworks outside of the city limits.
Also, keep in mind that the City of Lubbock has good reason for not allowing fireworks. They're not banned just to ruin your fun. They're a fire hazard, can cause serious injury, and lead to distress in people suffering from PTSD as well as pets. So think about that if you decide to break the law and set them off anyway.
Due to fireworks being illegal in Lubbock, you'll need to head to the edges of the city to buy your fireworks. There are quite a few options and there's bound to be at least one within 15 minutes of where you live. From TNT Fireworks to Mr. W Fireworks, there are plenty of locations.
You're all set to purchase and set off all the fireworks you want if you already live in a town outside of Lubbock. Please still be mindful of those around you and stay safe. If you don't want to leave Lubbock to enjoy some fireworks, then check out the numerous firework shows that are happening in and around Lubbock this 4th of July.
If you already live outside of Lubbock or you're planning to head out of town to buy some fireworks, here are some places that sell them.
Where to Buy Fireworks In & Around Lubbock County
Here are several places you can buy fireworks for this season's 4th of July festivities in Lubbock County.
---
10 Things You Learn When You Move to Texas
Here are 10 things you will learn about Texas if you move here from another state.
10 Most Expensive Neighborhoods in Lubbock
Here are the 10 most expensive neighborhoods in Lubbock based on data found on
Neighborhood Scout
.
More From Talk 103.9 & 1340