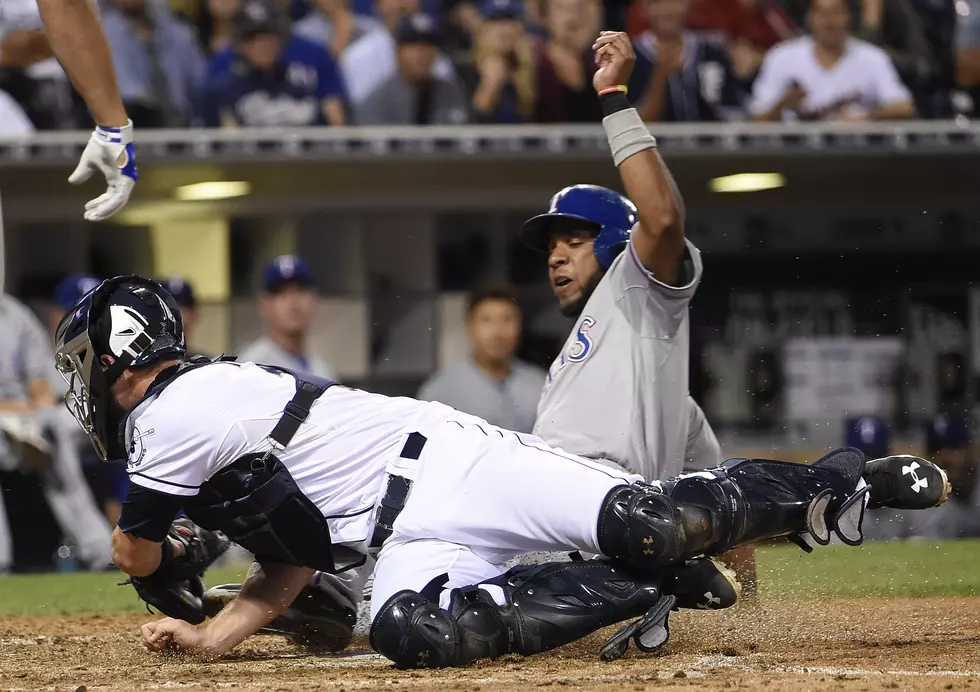 Elvis Andrus Steals Home to Help Rangers Win
Denis Poroy / Getty Images
The Rangers shortstop Elvis Andrus made a spectacular play Tuesday night. He did something that a Texas Ranger hasn't done in 15 years. He straight up stole home.
The steal wasn't a called play.
"The steal of home … what an instinctual play by Elvis," Rangers manager Jeff Banister said.
Padres pitcher Kevin Quackenbush was caught by surprise as Andrus broke for home while the pitcher was still in the stretch staring at the ground.
"Believe me, I've tried to do that before, but I didn't have the right situation," Andrus said. "Up three runs, two strikes, all those factors were big for me to attempt it. I tried not to think about it too much. If you think about it too much, you get in trouble."
Quackenbush had entered the game unexpectedly after the catcher left the game on the previous at bat due to injury and the previous reliever left the game injuring himself while warming back up.
Andrus had a chance to watch Quackenbush keep his head down all throughout his warm up and the first three pitches of the Will Veneble at bat.
"I saw the first pitch, his face was down," Andrus said. "Then I counted off to see how long he was down. Then I faked going to the plate to see if he was aware of me."
Andrus realized Quackenbush wasn't paying attention. So on the fourth pitch, Andrus broke for the plate while Quackenbush was still in his stretch. By the time Quackenbush keyed into the fact something was happening and he hastily threw a pitch wide to the wrong side of the plate, Andrus had slid in for the score.
The Rangers and Padres have the rubber match for the series tonight, September 2, at 9:10 p.m. CT with Cole Hamels (8-8, 3.69 ERA) facing off against (8-12, 3.94 ERA).
More From Talk 103.9 & 1340