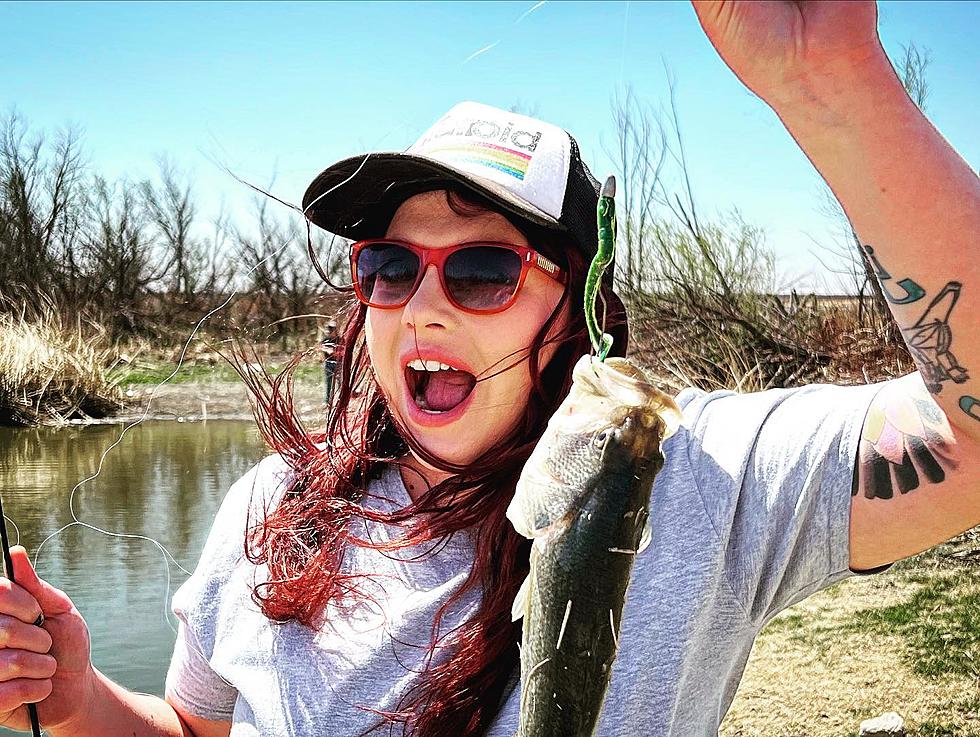 6 Fantastic Spots to Take Your Family Fishing Around Lubbock
Photo Credit: Steven Ellis
It's warming up in Lubbock, which means it's time to dust off those fishing poles, dig through your garage for the tackle box and spend the day fishing with your buddies with a couple of cold beers.
If you're looking to pull up more than old tires and trash bags, there are a few places in Lubbock that are actually pretty great for fishing. Whether or not you actually want to eat the fish is totally on you.
Playa lakes are sort of icky, but if you just want to catch and release and make sure your kiddo snags a couple of fishies, here are some of the best spots in town to reel 'em in.
1. Buffalo Springs Lake near Ransom Canyon
This is definitely my favorite spot. It may be a little pricey to get in there, but I think it's definitely worth it. Plus, the fees you pay to hang out for the day help to maintain the park and keep it clean and nice for everyone to enjoy.
The last time I was out there I pulled up 10 or 11 Channel catfish in about an hour. You'll also find Largemouth bass and White crappie. It's a great place to take your kids on their first fishing trip. The odds of them reeling one in are definitely in your favor. Friends of mine really enjoy fishing on the east side of the dam.
2. The ponds below the Ransom Canyon Chapel
You'll find lots of sunfish in these ponds, but watch out for the cattails or you might get tangled up and that can be a bit of a mess. Sunfish will go for almost any kind of bait. My suggestion would be to just grab a box of worms or bring some top-water cricket lures.
3. Maxey Park
This is a great place to take the family out to fish because there is a little playground for the kids to run around when they get tired of waiting to catch something. Also, coming up on April 23rd, 2022 kids fish for free. You can register for the event by heading over to KidsFishLubbock.com. They even stock the lake with Channel catfish and provide free food for the event to make sure everyone has an awesome time.
Another great thing about Maxey is that you can bring your canoe or battery-powered boats out on the water as long as you have a license.
4. Mae Simmons Park and The Dunbar Historic Lake
You'll find plenty of Bass, Crappie, Catfish and Stripers at Mae Simmons Park. The place is huge and there's a lot of space to enjoy the day with your friends. It's fun to walk all over the park and test your luck in different areas. You'll almost always see a handful of people fishing off of the little bridge over the water, which seems to be the most popular spot. It's a beautiful park with great picnic areas.
5. Frank Higginbotham Park
This one may come as a surprise to you. I'm adding it to the list because I grew up next door to the Higginbotham Park and spent much of my childhood fishing there with my brother. If you've never taken a gamble on fishing in one of the smaller playa lakes around town, check this one out. We pulled up all kinds of things, mainly Channel catfish.
6. The Buddy Holly Recreation Area
This is a nice spot to take friends that are visiting Lubbock from out of town. You'll find fishing, walking trails, disc golf and some really nice picnic areas.
---
What's your favorite place to go fishing around the Lubbock area? If we didn't mention it above, please let us know the comments on our FMX Facebook page. For more information on other great places to fish, you can find a complete guide to fishing in Lubbock by clicking here.
What House $500,000 Gets You in Lubbock vs. Dallas, Texas
One of the biggest draws to living in a smaller city rather than a large one is what kind of house you can get for the same price. Here's a comparison of two homes -- one in Lubbock and ther other in Dallas -- that both cost around $500,000 and have four bedrooms and three bathrooms.
Take a look at the Dallas home, followed by the one in Lubbock, below:
Take a Stroll Through One of Lubbock's Most Artistic Homes
This is by far the most colorful and unique home in Lubbock, Texas. Enjoy a virtual walkthrough of this one-of-a-kind house.
9 Things You Shouldn't Say in Lubbock
More From Talk 103.9 & 1340