Zach Rheams Talks Superstitions, Pronounces Jung With a Hard 'J'
I found this delightful video about superstitions in baseball. I myself have carried around Tim Tadlock's head since the Oklahoma State series, and I wanted to share a few thoughts on it.
Despite Tim Tadlock's head sitting beside me during every game since the Oklahoma State series, I'm not totally on board with superstitions. But I understand when athletes have them.
The perfectly reasonable Michael Scott sums up my feelings on the subject perfectly: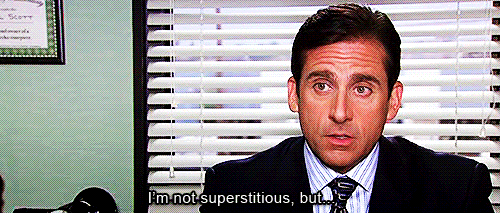 Let's break down the video.
First off, Mississippi State is crazy. They are obsessed with bananas. That's b-a-n-a-n-a-s.
Next, it's no surprise Washington was the first to go home; they all chugged Red Bulls before taking the field. When Josh Hamilton drank too much Red Bull, he dropped a pop fly and the Rangers had the worst collapse in franchise history.
The North Carolina guy was lame. The same clothes? Child's play. He couldn't even remember his list of superstitions.
Then comes the star of the show, the Lubbock Regional MVP and All-American DH Zach Rheams, who describes his own superstitions and then goes on to call the Texas Tech third baseman, Josh Jung, the most superstitious on the Red Raider team.
You know this is true if you watched the ESPN coverage of the Lubbock Super Regional when Texas Tech beat Duke. The network played the same interview with Josh Jung over and over again about how he's had the same batting routine since he was 11 years old.
I didn't have a single routine at the age of 11. I don't have the same routine for anything now. Josh Jung has done the exact same thing every at bat since he was 11? That is miraculous. That's more than 10,000 at bats, including practice hacks and all the summer ball Jung has been a part of.
That isn't what amazed me about the video, though. My biggest takeaway was Zach Rheams pronouncing Jung with a hard "J" sound. J as in "Jog." And here I've been announcing it "young" the past two years?
(Go to the 1:47 mark of the top video to hear for yourself)
Is this another case of the Mandela Effect? Has it always been a hard "J" and I'm just remembering a soft "J" from distant memories? Has the rain delay turned my brain into a soft mess where nothing makes sense and letters have no set way to be said and pronunciation is up to the elocutionist?
I can't live in that world. I need order instead of the chaos of the soft versus hard "J" controversy.
I will leave it to the people to make sense of Zach Rheams and the correct pronunciation of Josh Jung (or Jung).