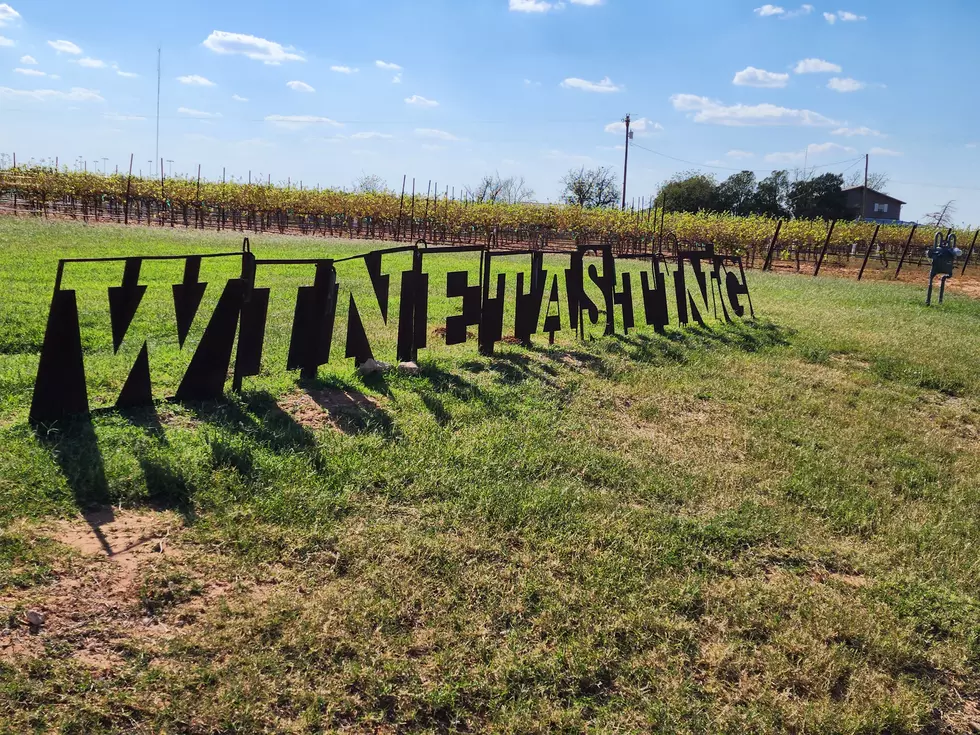 We Found a Hidden Paradise for West Texas Wine Lovers in Brownfield
Lance Ballance, Townsquare Media
Sometimes we tend to forget that there's life outside of the loop here in West Texas, and that there are many hidden jewels that we don't hear about every single day. It's at those moments when just getting in the car and heading out for a short drive can point you in the direction of paradise.
This week, my wife and I are celebrating our anniversary and decided to take a little road trip to try someplace new. I had heard that there were some vineyards and wineries in Terry County, so we consulted The Googler and came up with a few different options.
The first place we stopped was closed even though their website and Google said they'd be open. I chalked it up to small-town problems. So we continued on and found the next stop on our list. It ultimately turned into our only stop, mainly because we didn't want to leave.
This is Whitehouse Parker and Farm House Vineyards.
We pulled up to the house and felt like we'd made a wrong turn into someone's driveway. This didn't look like any tasting room I'd ever been to. It was, literally, a little white house. The second we walked in, however, we realized that this was absolutely the right place.
After we were welcomed in, we looked around the gift shop at the various tchotchkes  and food items for sale and were guided to a small, private sitting area which was probably the former dining room of the house. The charm of the house was almost overwhelming, and the young man who guided us through the tasting couldn't have been more knowledgeable or affable.
We also met with one of the owners who explained that the family were prolific farmers in the area of just about anything you can grow. They also supply grapes for a vast majority of the wineries in West Texas, selling 95 percent of their crop and keeping just 5 percent for themselves to turn into the nectar of the gods. And, oh my, is it good.
We also got a charcuterie board, which was perfectly paired for the wines we were tasting. Plus, the cream cheese and honey spread (made with cotton honey) was practically crack in a jar. It was so addicting.
After a few minutes we were joined by Katy Jane Seaton, one of the owners and proprietor of the tasting room. She enjoyed a glass of wine with us (the 2021 Farmer's Wife) and shared a common bond with my wife as a Pacific Northwesterner, while telling the story of the vineyard and the area. Seaton and her team couldn't have been more cordial and welcoming, and we will be back.
As for the wines, our favorites were the 2021 Boyfriend, which is a sparkling white, and the 2021 Cultivated, a phenomenal red blend of which we bought a bottle of to take home. But trust me, they'll have something you love.
If you want to get off the beaten path and try something new with a slice of West Texas charm, Whitehouse Parker in Brownfield is your place.
10 Great Local Lubbock Places for a Date
See some great local things to do and places to go on a date.
It's Finally Fall! Check Out 16 Great Places To Grab A Bowl Of Soup In Lubbock
These are the best places in town to get your soup on!
Top 25 Delicious Foods & Drinks That Define The Great State of Texas!
There's more to Texas than just Dallas Cowboys and oil in fact, Texas has helped shape the taste of America. From BBQ, to Tex Mex to Ice Cream and beyond, Texas has introduced the rest of the U.S. to the Texas way of life through food. So what foods and drink make Texas so special? Let's take a look.
Texas Candy, A-Z
More From Talk 103.9 & 1340