Tommy Tuberville Might Be Running for Governor of Alabama
Rob Brennan, 1340TheFan.com
Former Texas Tech football head coach Tommy Tuberville doesn't have a job right now after resigning from the University of Cincinnati following a 4-8 season in 2016.
According to CBSsports.com, Tuberville's next move might be Governor of Alabama.
With the ultimate I-have-no-experience-in-politics-but-it-looks-cool election happening in November with Donald Trump, the world is now open for anyone with the means to run for political office. I guess that was always the case.
The CBS article mentions comedian Al Franken, who went from "Saturday Night Live" to Minnesota senator. It also mentions former California Governor Arnold Schwarzenegger and actor-turned-governor-turned president, Ronald Reagan. And who can forget Jesse "The Mind" Ventura, who wrestled his way into the political atmosphere. There are several big-time politicians who aren't lifelong public servants.
Coaching at a major university probably prepares someone for a gubernatorial race better than most jobs. The public speaking and delegation of important duties are strong suits for college coaches. And years of recruiting and sucking up to boosters probably gives you a wealth of experience in the political scene.
He's also got experience being a spokesman:
In fact, Tommy Tuberville is probably more experienced at being a politician than most politicians. It just makes sense to me.
I guess the main question for me is, why Alabama?
Tuberville had his most successful run as a coach in Alabama at Auburn. He coached there for 10 years, beating the University of Alabama six straight seasons. His team was undefeated in 2004, but didn't win the National Championship. So he already know what it's like to get screwed in the polls. He's ready.
Would you vote for Tommy Tuberville? It's not for certain that he'll even run. If he does run, most of the readers here wouldn't be eligible to vote for him considering we are in Texas.
In whatever state you live in, would you vote for Tommy Tubs as your Governor Remember, if you say 'no,' Tommy will be coming after you.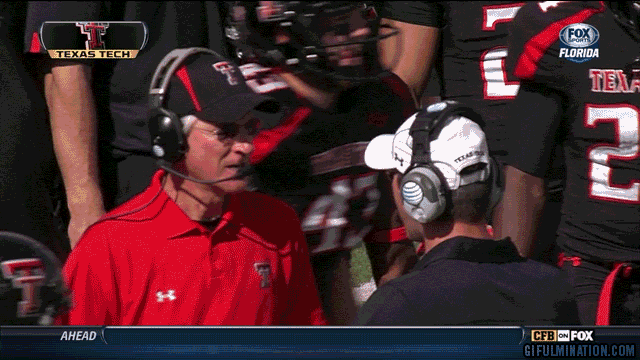 BONUS

Texas Tech Fans Cuss Out Baker Mayfield

MORE

Texas Tech Fans Break Out Cell Phone Lights
More From Talk 103.9 & 1340