The Romo Stalemate Continues
Tom Pennington / Getty Image
The Dallas Cowboys are still holding Tony Romo. Which essentially means that Tony Romo doesn't have a starting job. It's like being told you made it on the varsity football team as a freshman, then sit on the bench the whole time. Although Jerry Jones doesn't worry about a single dime, it's lose-lose in both situations; Romo is without a starting job, and the Cowboys are blowing away money they could conserve for future talent.
Why hasn't Romo been released by now? It's no secret that the Dallas Cowboys owner and General Manager loves him some Romo -- maybe even more than himself. But why isn't he making any moves?
Jones is supposed to do right by Romo and put the four-time Pro Bowl quarterback in control without stalling and trying to get something in return. Let's be honest here, the Texans surrendered their quarterback and second round draft pick, hoping to make a team-friendly contract in free agency for a potential playoff push.
The Texans seem to need Romo more than the Denver Broncos do, who has also been sending signals that they have interest in Romo. Realistically though, the Broncos could get by with Trevor Siemian or Paxton Lynch at quarterback. Siemian had some some of his shiny moments in Denver, while Brock Osweiler didn't really show the Texans or the NFL that he was worth $72 million.
Getting Romo could be a risk (he could last one single game or a whole season), but I believe that Romo would do well in Houston. I think Romo and the Cowboys both have needed change. While the Cowboys have made changes by adding Dak Prescott, Romo hasn't made any. There's no way of knowing how well Romo will play, or if he'll even be able to play. But someone needs to make the move, and frankly, there's nothing I would love to see more than Tony Romo coming back healthier than ever, putting up numbers for the Texans.
But at the end of the day, it's Jerry's world, and Tony Romo's just living in it.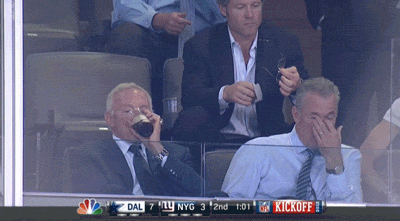 More From Talk 103.9 & 1340