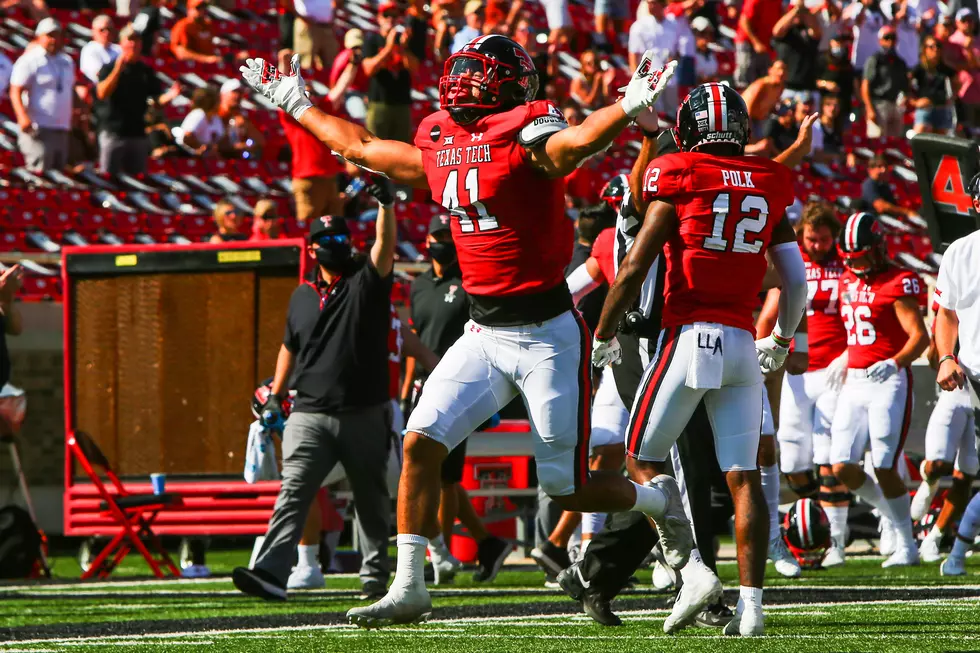 Texas Tech Football Confirms 9 Seniors Will Return in 2021
John E. Moore III/Getty Images
The Red Raiders had 17 seniors participate in the 2020 season, helping the Red Raiders get across the finish line in a weird season that felt more like a placeholder for Matt Wells rather than a second season.
Those 17 seniors would have been moving on in any other season, but this year is different. The NCAA gave a blanket year of eligibility to every athlete that played football in 2020, including the seniors, due to the coronavirus pandemic.
Of the 17 seniors who played, nine will return for Texas Tech next year. That means eight players will be moving on from the program: Zachary Adams, Eli Howard, Ja'Marcus Ingram, Zech McPhearson, Connor Killian, Thomas Leggett, TJ Vasher and Cody Waddell.
Texas Tech also added Jack Anderson, Alex Hogan and KeSean Carter as notable departures from the program. Anderson declared for the NFL Draft, while Carter transferred to Houston. Hogan is still in the transfer portal.
That leaves these nine Red Raiders as Red Raiders for another season. All nine have started games for Texas Tech, and most were huge contributors last season, except for McLane Mannix, who spent most of the season injured and not on the field.
Here are the nine returning seniors:
Colin Schooler: The linebacker took a few games to get his under him but by the end of the season he looked like an All-Big 12 performer. Schooler led the team in sacks and was second on the team in tackles. He also had the play of the year by burying Baylor quarterback Charlie Brewer, stopping a touchdown and saving the game. He'll be marked on the depth chart in ink in 2021 and be the leader of the defense, along with the next guy on the list.
Riko Jeffers: Jeffers is the emotional leader on the team and was playing at an All-Big 12 level before injuries cut his season short. He finished with 58 tackles, including a team-high 8.5 tackles for loss in 2020. He'll need to take another step forward in 2021 to get the Red Raiders to the next level, but he'll definitely be on the field for Texas Tech as a starter.
Eric Monroe: Through six weeks of the season, Monroe was an absolute flop. He flashed against the run, but he wasn't consistent and was a liability against the pass. Over the final four weeks of the season, he became a standout and looked like a legit Big 12 starter for large stretches. He finished the season third on the team with 60 tackles and two forced fumbles.
Jacob Morgenstern: Another first year Red Raider after struggling to get on the field at his previous spot, Morgenstern was better than expected in 2020. By far his most productive collegiate season, Morgenstern finished with 32 tackles, 4.5 TFLs, and a huge punt block against Texas. I expect Morgenstern to battle for the final starting linebacker role beside Riko Jeffers and Colin Schooler.
DaMarcus Fields: Another 2021 starter is back. The defense struggled with Fields not on the field early, but really improved down the stretch with him and Zech McPhearson leading the way in the secondary. Fields finished with 11 pass defenses and 31 tackles in 2020. Fields has accepted an invitation to participate in the 2021 College Gridiron Showcase, but if Texas Tech has confirmed he's still returning, I believe it. If he dominates the Showcase, that may change.
Seth Collins: Listed as safety now with Texas Tech, I have no idea what Seth Collins will do next season at Texas Tech. He's played quarterback, outside receiver and inside receiver at the power five level, with safety being his latest addition to the resume.
Travis Koontz: This was an intriguing announcement from Koontz. I did not expect him to return, but excited for him to do so. Koontz excels at run blocking and will still be utilized in 2021, but won't be on the field as much as he was in the Yost-led offense. He had a mildly productive season with 14 catches and 189 yards. That's similar to the production that the TCU tight end position had in Sonny Cumbie's offense last year.
McLane Mannix: Injured for most of 2020, Mannix will have more opportunity in 2021, with Cumbie dabbling in 5-wide and 4-wide sets instead of just banging his head against the wall of 11-personnel for 98 percent of the snaps. Theoretically, that means Mannix, Dalton Rigdon, and Myles Price could all see the field on the same play, an impossible venture under the previous regime.
Josh Burger: Burger started all 10 games at right tackle last season after transferring in from Wofford. I don't think he's an NFL-caliber tackle, so I want to jump out on the limb and say Burger will slide inside to a guard spot, or even center, to improve his resume for the NFL.
Enter your number to get our free mobile app
12 Random Masked Rider Facts
More From Talk 103.9 & 1340