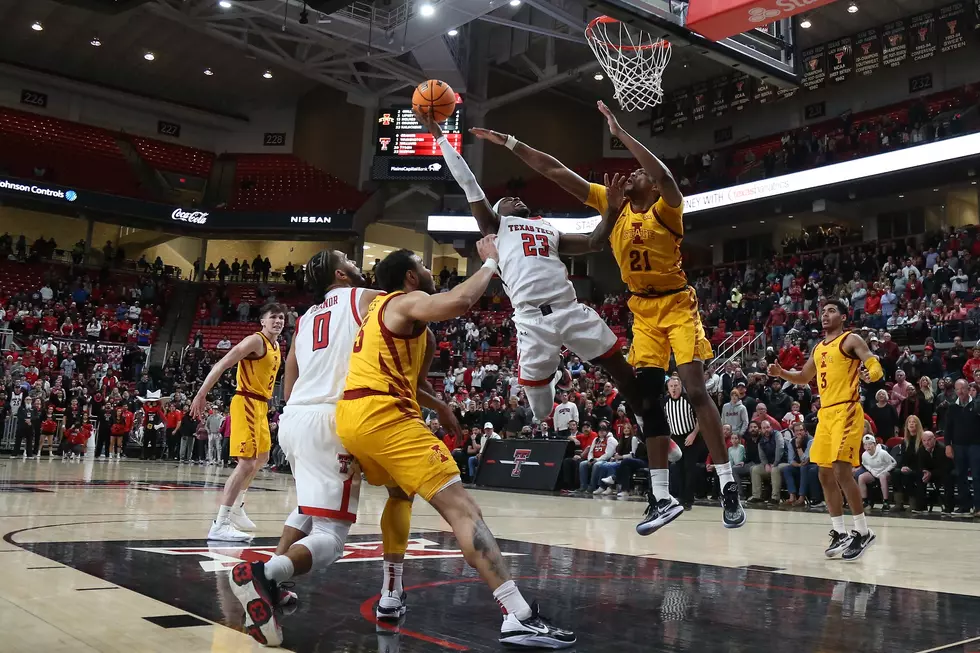 Texas Tech Fans Rush Court After Incredible Comeback Against Iowa State
Paul Roberts, KKAM.com
Texas Tech basketball was dead in the water at 0-8 in the Big 12. Mark Adams was on the ropes with press conference quotes about taking the blame for the poor start and holding accountability for most issues around the team. Then, Texas Tech went to LSU and beat the Tigers.
Who cares, right? LSU is a terrible team. They still hadn't done anything in Big 12 play.
The issues this team had been dealing with showed back up early against Iowa State with Cyclone shooters draining threes from all over the floor. Texas Tech was down 39-22 at halftime and the team was absolutely reeling. The crowd was dead. The team was beaten.
Or was it? It didn't matter that the Cyclones had beaten them by 34 in Ames a few weeks ago, Texas Tech mounted the biggest comeback in program history to beat Iowa State 80-77.
The second half was a battle from the start with Texas Tech getting the defibrillator at the half. Even with the Red Raiders waking up, Iowa State was keeping pace with Caleb Grill hitting his 7th three-pointer of the game putting Iowa State up 23 points with a little more than 12 minutes left in the game.
In the wake of a seemingly back-breaking three, Lamar Washington hit a slick assist to Robert Jennings. Devion Harmon hit some free throws. Kevin Obanor hit some free throws.  Obanor got an offensive board after a turnover and put it back up and in. Jaylon Tyson and Washington put their defensive capes on and five minutes later it was a 12-point game with seven minutes raining.
An Iowa State free throw momentarily stopped the run before Jaylon Tyson and Lamar Washington scored six straight points to cut further into the lead. The final Washington bucket a steal and coast-to-coast dunk from the freshman.
With four minutes remaining Kevin Obanor made it a four-point game before Grill hit another seemingly back-breaking three-pointer, his eighth of the game to push the Iowa State lead back to seven. Texas Tech though, the 0-8 Big 12 basement dweller, refused to die.
Demaurion Williams hit a layup with a minute left to get the lead back down to three. Iowa State pushed it back to five. De'Vion Harmon, who had a monster second half, missed a layup but an offensive rebound by Tyson got the ball out to Obanor for a three-pointer with :26 seconds to go.
Then, with a two-point deficit, in a moment this Texas Tech team has caved this season, they forced another turnover with :20 seconds to go. Incredible effort by the Red Raiders in the second half.
Harmon hit two massive free throws on the next possession to tie the game. Iowa State got a desperation three-point attempt off, but to overtime, we went. The largest comeback in Texas Tech history was there for the taking. But can this Texas Tech team win a tight game in overtime? Yes. They finally did.
Texas Tech outscored Iowa State 9-6 in overtime and Kevin Obanor hit two free-throws to ice the game inside the final minute.
Tyson, Harmon, Obanor, and Washington were all absolutely massive and Mark Adams made the decision in the second half to move to small ball taking Daniel Batcho off the floor and Iowa State's offense never figured it out.
I would love to see more small ball from Texas Tech as they move forward this season.
The crowd, though it was small, was also incredible down the stretch and they got to celebrate on the floor as the Red Raiders beat their first ranked opponent of the year and won their first Big 12 game at home.
And Texas Tech did it with effort and tenacity. Two things this team has lacked at times this season. It was a beautiful sight to see.
Texas Tech Basketball Caps Off Insane Comeback over Iowa State in Overtime
More From Talk 103.9 & 1340