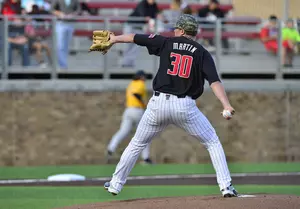 Texas Tech Baseball Releases 2017 Schedule
Ashley Wirz, 1340TheFan.com
The Texas Tech Baseball program has released its 2017 schedule, and it won't be easy to repeat as Big 12 Champs.
The schedule features 27 home games and 29 road games. According to texastech.com, the 56 game schedule includes 18 contests against 2016 NCAA Tournament teams. The Red Raiders will host all three CWS teams on this year's schedule in Lubbock, beginning with Arizona (March 7), followed by Big 12 opponents Oklahoma State (April 21-23) and TCU (April 28-30).
Texas Tech will open their season in 2017 against Western Illinois on Feb. 17. The home schedule opens on Feb. 21 against New Mexico State.
The Red Raiders will participate in the Shriners Hospitals for Children College Classic at Minute Maid Park, home of the Houston Astros, for the second-straight season. The three-day, six-team, nine-game tournament will pit Texas Tech against Texas A&M on March 3, Ole Miss on March 4 and LSU on March 5. All three of Tech's opponents in Houston hosted NCAA Regionals in 2016.
The start of the Big 12 title defense will begin on March 17, when the Red Raiders open conference play on the road against the Texas Longhorns on March 17-19.
After a series with Kansas State in the middle of April (13-15), Tech will hit a stretch of 10-straight games vs. 2016 NCAA Tournament teams, before finishing the regular season in Lubbock against Kansas on May 18-20.
The top eight teams in the conference standings will advance to the Phillips 66 Big 12 Championship on May 24-28. The five-day tournament is held at Chickasaw Bricktown Ballpark in Oklahoma City.
More From Talk 103.9 & 1340