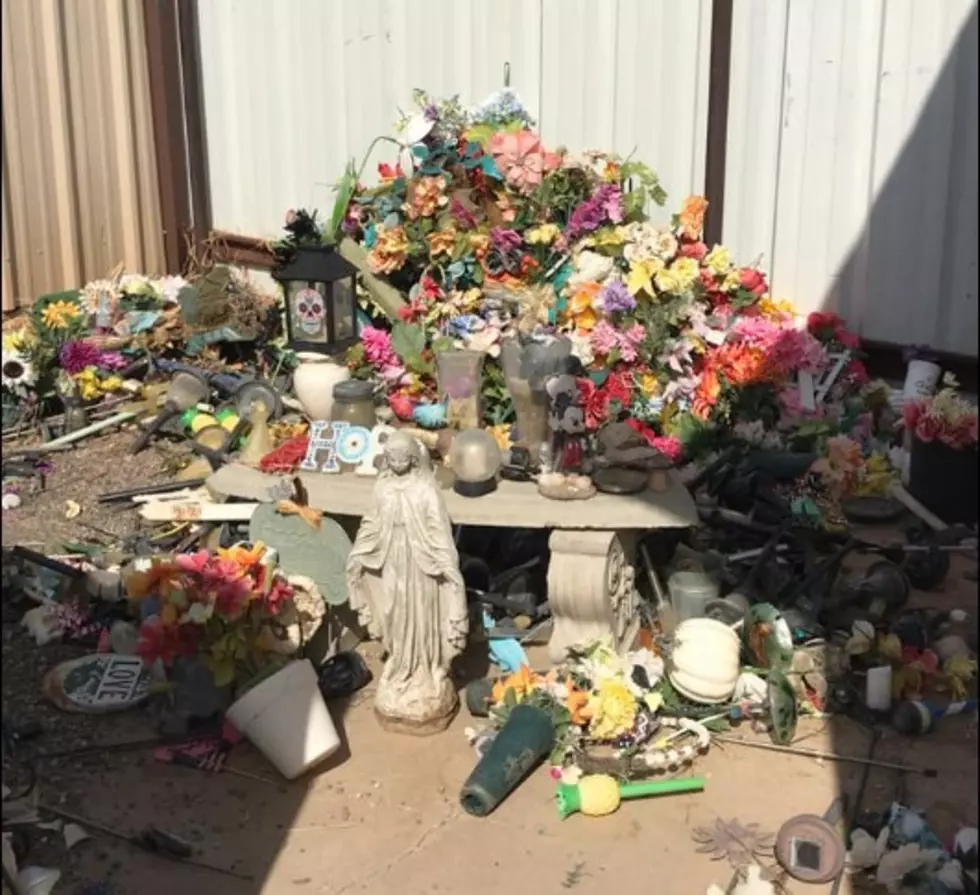 Texas Cemetery Carelessly Tosses Gravesite Belongings Into Big Pile
Facebook via Casey Bryant
I came across a Facebook post last week that made me really sad.
A cemetery in Monahans, Texas apparently gathered up cherished belongings left next to headstones and carelessly tossed them into a pile next to a storage building. Flowers, flags, stuffed animals, and precious memories were basically left in a pile, mixed together.
Friends and family members of people buried in the area were not amused and voiced their opinions in comments below the photos. Here are a few of them:
"How is that not considered desecration of a grave?"
"There's other posts too, someone said the decision was made because they're hard to mow around, but this is the 1st time they've done anything to this extreme. This is a small town cemetery, they obviously know how much people dedicate time and money to decorating, the families have been taking care of their loved one's plots before now, they gave no warning and just ripped everyone's stuff out of the ground and just threw it down all over the place. The whole town is understandably PISSED. Like this wasn't worn down stuff, this was solar lights, pictures, wreaths on proper stands, statues, people take their time out there making beautiful displays and regularly visit, this is super messed up."
"We had my aunt's AA coin sitting on her head stone and someone took it"
How would you feel if something like this happened? What would you even do about it? Comment on our Facebook page if you or someone you know what affected by this. It's incredibly sad. I can't imagine what it would be like to see my grandmother's belongings thrown away in such a manner.
West Texas Estate For Sale Is A Real Life Doll House
Built in the 1920s, this estate consists of a main house, a cabin, an apartment and tons of amenities.
The Darlie Routier Murder House in Rowlett, Texas Is Up for Sale
18 Places That Made Growing Up in Lubbock Awesome
How many of these cool spots in Lubbock did you hang out as a kid?
More From Talk 103.9 & 1340