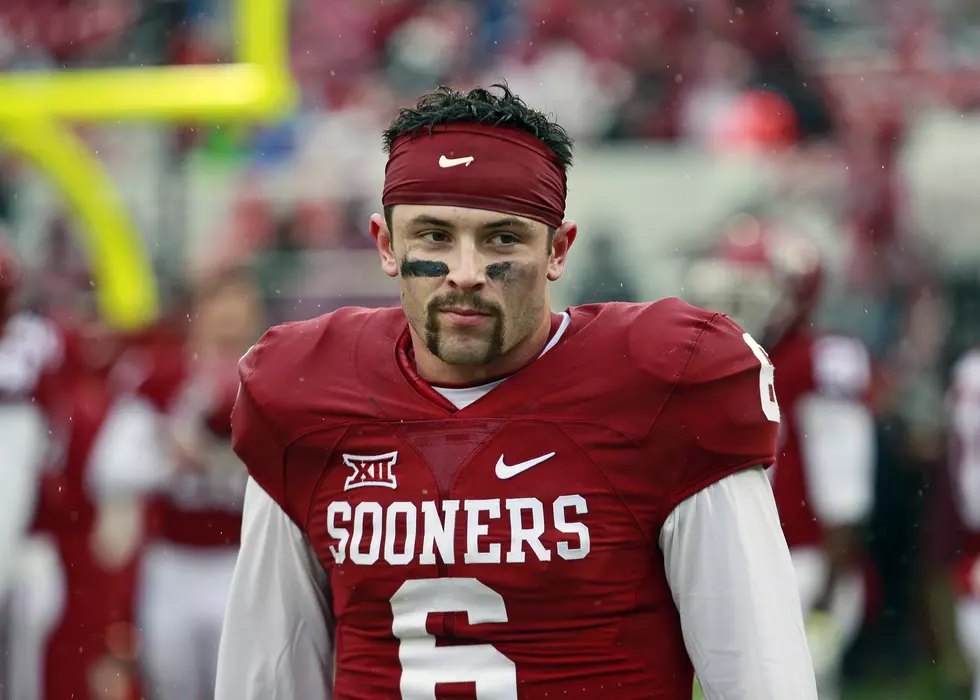 Some Guy Got a Baker Mayfield Tattoo and It's Glorious [Photo]
(Photo by Brett Deering/Getty Images)
Some dude tweeted Baker Mayfield asking for a retweet. Baker Mayfield obliged. Now, the dude has a Baker Mayfield tattoo. That's a permanent face of Baker Mayfield on a man's calf. This is the Baker Mayfield from Oklahoma by way of Texas Tech. The scrappy walk-on who earned a 5th year in the Courtroom. The first QB to lead the Sooners under HC Lincoln Riley.
I'm 95 percent sure this is the photo the tattoo artist used for inspiration. Complete with side eye, Fu Manchu and oversized headband.
You can see the tattoo artist really stressed the accuracy of the eye black that has been sweated.
What in the world is Baker staring at?
It's so bad it's great. Why did they change the jersey color? Why did the tattooist not fix the side eye? Why did they leave the smudge? Bonus points for choosing Fu Manchu Baker, he's the best Baker.
The finger placement would be key.
In fact, if I ever get a tattoo, I would seriously consider this to be an appropriate choice.
In fact, if Kliff Kingsbury wins a Big 12 championship in 2017, I'll get this tattoo on my body.
NEVER FORGET

Lubbock's Profane Chant for Baker Mayfield
More From Talk 103.9 & 1340