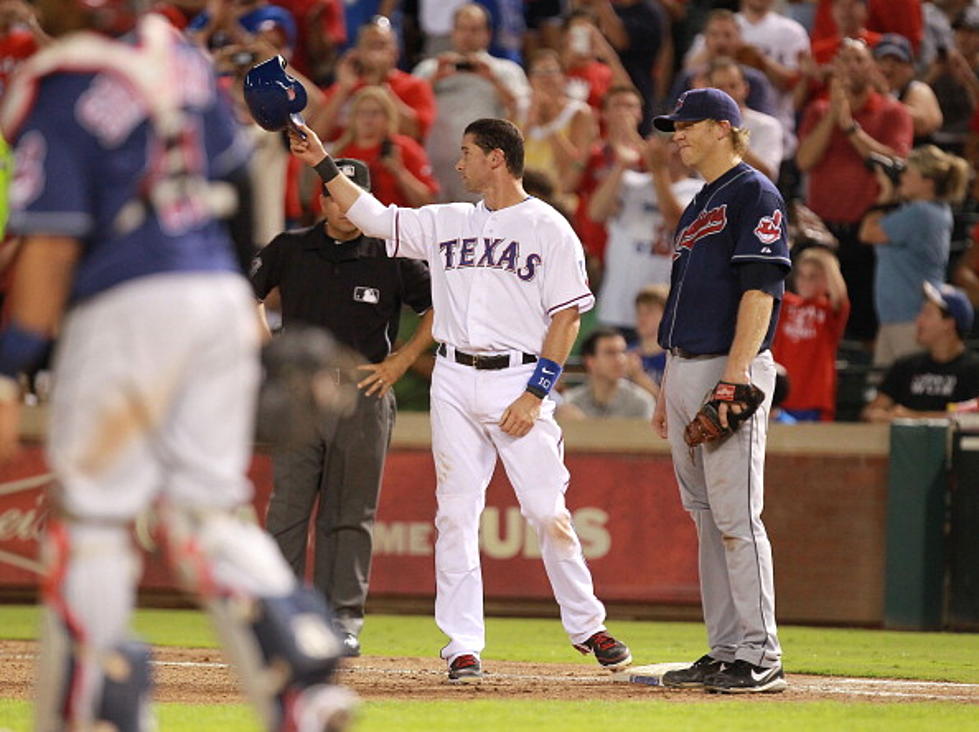 Michael Young Records 2000th Career Hit as Texas Rangers Defeat the Cleveland Indians
Ronald Martinez, Getty Images
Mr. Texas Ranger, Michael Young, reached an impressive milestone last night and helped lead the Rangers to a 5-3 win over the Cleveland Indians.
Indians starter Josh Tomlin did a great job. He threw 7 scoreless innings and helped the Indians have a 3-0 lead heading into the 8th. That's when everything fell apart for the Indians. Tomlin was pulled after walking the Mike Napoli, the lead off man, and giving up a single to Mitch Moreland.
Reliever Joe Smith didn't last long either. Smith gave up an infield single to Yorvit Torrealba to load the bases. David Murphy then got a RBI single off of Smith to put the Rangers on the board. After giving up the RBI Smith walked Ian Kinsler to force in a run and make it a 3-2 game. Smith was left in after walking in a run. The next batter Smith faced was Elvis Andrus. Andrus hit a 2 RBI single to push the Rangers into the lead, 4-2, and, finally, get Smith off the mound.
Josh Hamilton finished the Ranger rally in the 8th with a RBI groundout against Rafael Perez to make it 5-3.
During the game, Michael Young recorded 2 infield singles to help him reach the 2000 hit milestone. Young is the 11th fastest player to ever reach the 2000 hit mark in MLB history. All of Young's hits have come in his 11 year career with the Texas Rangers. Young is the first Ranger to record 2000 hits.
Michael Young was proud of his accomplishment but was more focused on helping the Rangers win, rather than get into the record books:
"That's always the most important thing. Everything revolves around team. Especially the way we did it, to come back in the eighth against a good bullpen makes it all the better." -AP