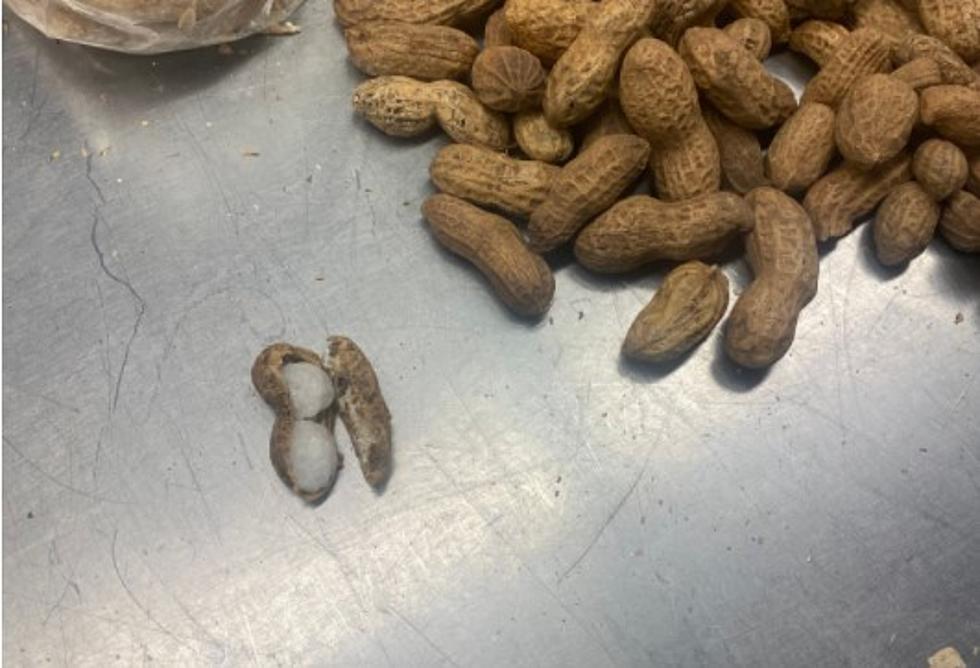 Meth Peanuts Destined for Texas Are Seized by Customs and Border Protection
CBP Gulf Coast via Twitter
Imagine craving a salty snack, grabbing a handful of peanuts, cracking open the shell and finding meth. Apparently, that's one way people are actually trying to smuggle methamphetamine into the United States.
A shipment that was labeled "REGIONAL BREAD ROASTED PEANUTS REGIONAL DUST SWEET MADE OF CORN" was headed from Mexico to east Texas, but it never made it to its final destination. Customs and Border Protection Officers in Memphis, Tennessee discovered the shipment to contain 489 grams of methamphetamine hidden inside of peanut shells.
They discovered the drugs when doing an x-ray scan of the shipment and seeing something suspicious. They decided to crack open the peanuts that were packaged with other food items. After opening the shells, they found a crystal substance in place of the nuts. The substance was then tested and came back as positive for methamphetamine.
That is crazy to me that someone thought of spitting open peanut shells, replacing the nuts with drugs, sealing them back up, and shipping them out. I guess it is a smart idea, but that's also a lot of effort for something that isn't guaranteed to work.
The Area Port Director Micharl Neiport said that it's a regular occurrence to find drugs smuggled in food like this. He said the often find narcotics in fruit, baked goods, nuts and more. Neiport also explained that methamphetamine is commonly smuggled due to it being "half the price of what cocaine costs, and at twice the potency."
The 489 grams of methamphetamine apparently equals 2,445 doses. One dose of methamphetamine lasts for up to eight hours and can cause harm to the user and those around them. Users can experience worsened anxiety, aggression, and paranoia, as well as heightened blood pressure, heart and respiratory rates. The seizure of this shipment helped to prevent some serious harm that could have occurred had it made it to east Texas as planned.
LOOK: 40 Discontinued & Special Edition Kellogg's Cereals
20 Striking Photos From Across Texas During Winter Storm Uri
Texas was hit hard by Winter Storm Uri, a polar vortex which led to millions being without power for days in constant freezing temperatures. These photos show the good, the bad and ugly of the crisis.
5 Things to Miss About Lubbock If You Move Away
12 Random Masked Rider Facts
More From Talk 103.9 & 1340