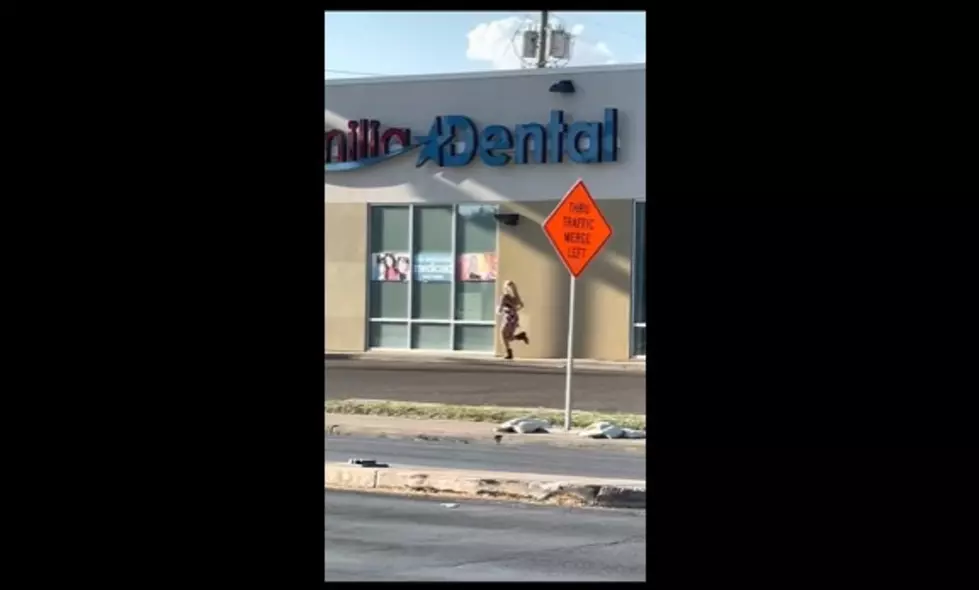 Video: Young Woman Accused of Fleeing Scene of Vehicle Crash in Lubbock
CurbSmasher via YouTube
Saturday, September 24, Texas Tech won in overtime against the University of Texas Longhorns and everyone stormed the field in excitement over the epic victory. Most game days are filled with tailgates and drinking of alcohol, of course, which tends to lead to some not so great decisions. There were 51 people arrested and booked into the Lubbock County Detention Center on Saturday alone. One of those people was reportedly caught on camera.
A video from YikYak later surfaced on Reddit showing a small gray/silver vehicle that apparently had a collision with a black car on 19th Street and Avenue X (near University). The gray/silver vehicle can be seen making an extremely wide turn North onto Avenue X after the vehicle can be seen losing its front bumper as it zig-zags a bit further down.
Later in the video, a girl in a red dress and cowboy boots is scene running away while someone is pursuing her from across the road.
The video mentions 21-year-old Alexandrea Touchstone (pictured above) by name, alleging that she was the driver and the girl running away in the video. KFYO News confirmed that Touchstone was arrested and booked into the Lubbock County Detention Center on September 24th and charged with Driving While Intoxicated (DWI).
In the YouTube version of the video, which is longer and contains vulgar language, a man is seen chasing the girl in the video. Many Reddit users have asked if the girl in the video is indeed Touchstone, then why wasn't she also charged for Failing to Render Aid, Fleeing the Scene, and Failure to Exchange Information.
Reddit users speculated that the man giving chase was a Slim Chicken's manager and not a police officer. In an interview with KFYO News, Slim Chicken's staff were able to confirm that the man in the video was a manager. They said that other staff made sure the driver of the other vehicle was OK as their general manager called the police. Employees stated that the girl was "very obviously drunk" as she ran behind the Familia Dental.
Lubbock's Mugshot Monday: 74 People Arrested in Lubbock (September 24th & 25th, 2022)
74 People Arrested in Lubbock on September 24th & 25th, 2022
Texas Tech vs UT (September 24th, 2022)
Pictures from the Texas Tech-Texas football game at Jones AT&T Stadium in Lubbock, Texas.
Top 25 Delicious Foods & Drinks That Define The Great State of Texas!
There's more to Texas than just Dallas Cowboys and oil in fact, Texas has helped shape the taste of America. From BBQ, to Tex Mex to Ice Cream and beyond, Texas has introduced the rest of the U.S. to the Texas way of life through food. So what foods and drink make Texas so special? Let's take a look.
More From Talk 103.9 & 1340