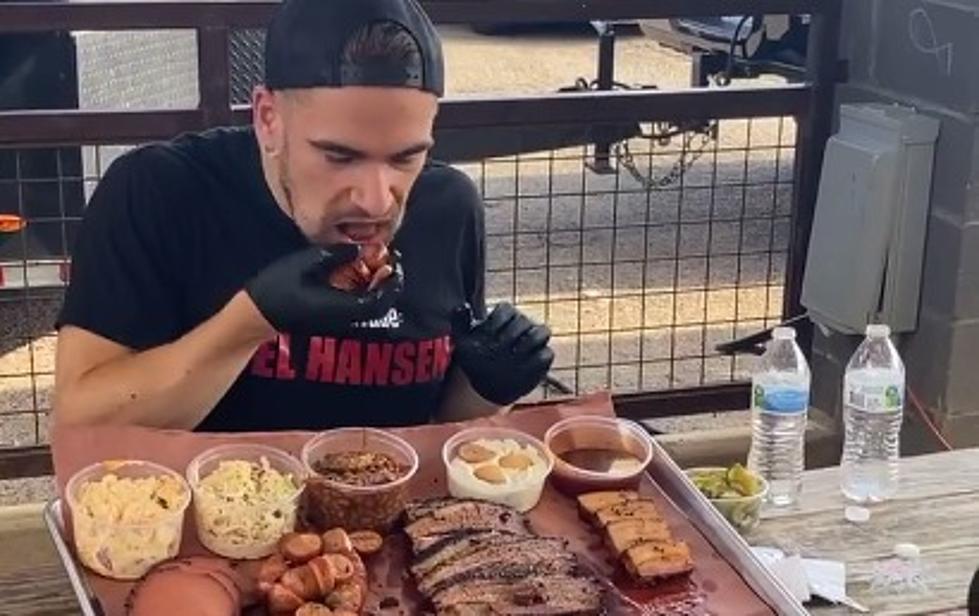 YouTuber Absolutely Destroys 10 Pounds of Delicious Lubbock BBQ
Joel Hansen, Marley Meats, Facebook
Now this is my kind of challenge! YouTuber Joel Hansen travels the country taking on all kinds of crazy food challenges from undefeated wild ones to eating so much at a buffet they kick him out. He's an absolute beast.
Hansen's resume is impressively filled with 14-pound pizzas, 11-pound sandwiches and an outrageous 18-pound BBQ challenge from Beach Hill Smokehouse in Toronto, Canada.
I like to think of myself as a man who can put away some serious barbeque, but I've got nothing on Hansen.
Just watch in awe as this majestic display of BBQ domination takes place in real time below via the Marley Meats Facebook page.
The Marley Meats food truck provided that delicious BBQ that Hansen took down at Two Docs Brewing Company. Judging by the tripod leg in the shot, I'll bet you'll be able to watch Hansen's video on his YouTube channel in the next couple of weeks.
In the meantime, I'm going to have to find this Marley Meats truck and try the food. I don't know that I could eat brisket, sausage, turkey, ribs, pulled pork, pork belly, multiple sides and banana pudding in less than 15 minutes, but I'd like to give it a shot.
I wonder how much that plate of BBQ would cost. Has to be into the triple figures. Sure looks worth it, though.
Not Hansen's most impressive showing in the Man vs Food series he does, but that doesn't cheapen how incredible the showing was.
Inside Texas' $8 Million Dollar Chicken-Fried Sports Bar
More From Talk 103.9 & 1340