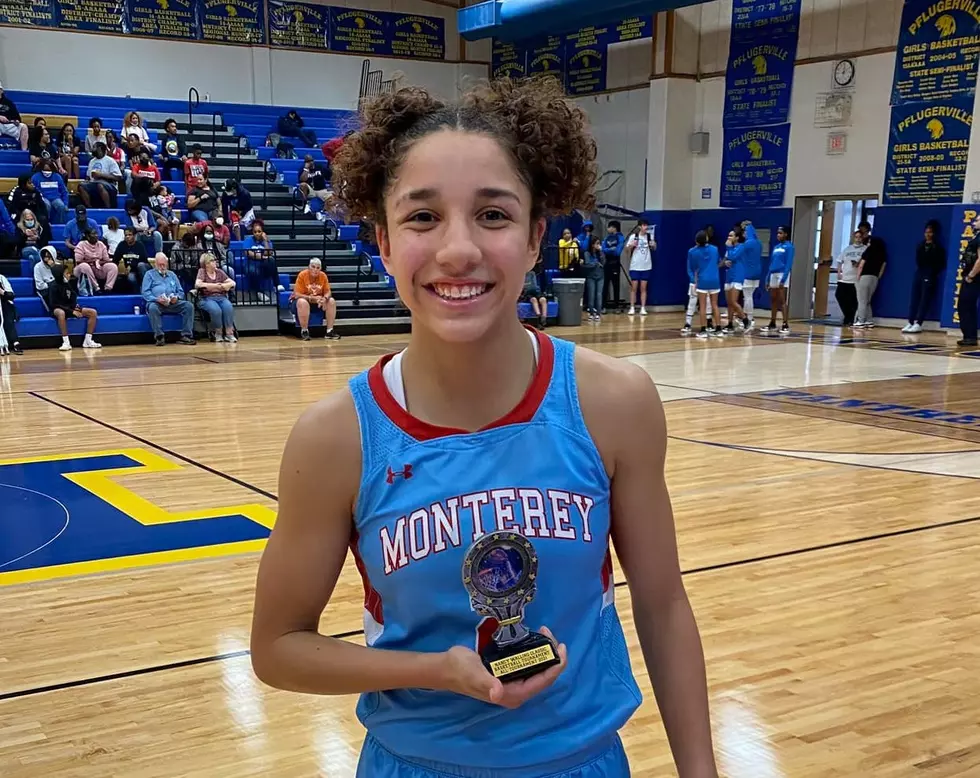 Lubbock Sophomore Called the Best Point Guard in Women's High School Basketball
Monterey Girls' Basketball
This can't be taken lightly. A Lubbock high school basketball player is going viral after being called "the best point guard of all women's high school basketball."
Some of you probably already know who I am talking about, but 15-year-old Aaliyah Chavez plays basketball at Monterey High School. She earned freshman All-American honors in her debut high school season and it was definitely well deserved.
Chavez is already seeing interest from colleges including UCLA, Alabama, Arkansas, Georgia Tech, Houston, Kansas State, Louisville, North Carolina, Oklahoma, Oklahoma State, Ohio State, SMU, Texas A&M, TCU, Texas Tech and West Virginia. They've all extended offers to the 5'9" guard. In total, she's received more than 20 D-1 offers.
Chavez even posted saying that she had an unofficial visit at the University of Texas in September 2022.
Chavez averaged 26 points per game as a freshman on varsity and is in the only top 25 ranking for 2025 that's available. ASGR Basketball has ranked her as the no. 1 player overall.
A lot of people are comparing Chavez to Allen Iverson due to her crossovers, quickness and ability to score. She's now getting more attention after her amazing performance at the NEO Youth League camp, where she dropped 50 points.
You can see the video below. People are loving how she's putting Lubbock on the map.
According to Sports Illustrated, Chavez has played in "39 games for the Plainsmen, averaged 25.7 points, 6.7 assists, 7.7 rebounds, 2.3 steals and 0.7 blocks per game. Chavez also shot 40% from beyond the arc and 85% from the free-throw line."
MaxPreps included her on their "2021-22 Freshman All-America Team due to her large point totals and efficient play in her debut high school campaign."
7 Ways Texas Tech's Womble Basketball Center Is Absolutely Perfect
Mind-Blowing $2.2 Million Lubbock Home Has Indoor Basketball Court & Theater
The massive 5-bedroom home, located at 4509 14th Street in Lubbock, has some amazing amenities, including a hot tub, two pools, an indoor basketball court and a theater.
More From Talk 103.9 & 1340