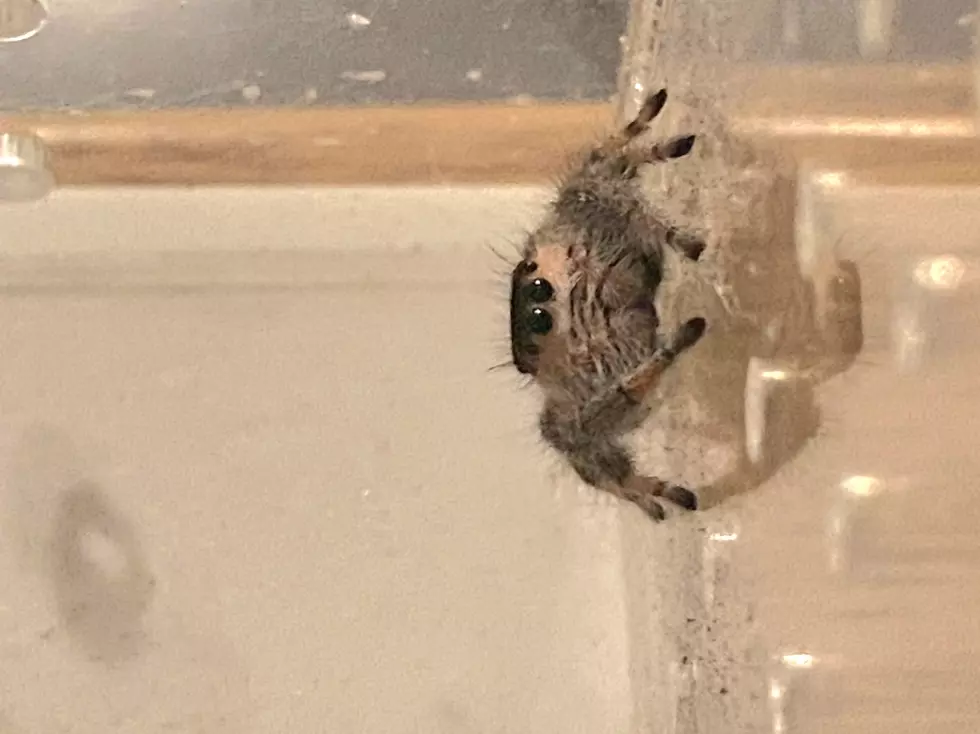 Will Jumping Spiders, a Dog-Like Arachnid, Become a Popular Pet in Texas?
Eido the spider (Photo: Dom Buchanan-Suarez)
We're just entering spooky season, which means pumpkins, bats, and big, hairy spiders. There's currently a popular trend in the United States that I want to be part of myself after seeing how easy it. Owning a jumping spider.
I know what most of you are thinking, and no, I don't want a giant tarantula the size of the palm of my hand. I prefer something smaller. A jumping spider.
Jumping spiders are those cute little fuzzy spiders you'll sometimes see on the outside of houses catching some sun or inside your home just exploring the ceiling. Many people are afraid of spiders, but these little guys have been described as puppies. After watching tons of videos of jumping spider owners showing off their little eight-legged fuzzballs, I agree.
Jumping spiders are said to have their own personalities. My new friend Dom said her jumping spider, Eido, is curious like most, but also shy and doesn't like being handled. Some jumping spiders, however, love to be handled by people.
Some people will buy a pet jumping spider from breeders, but they can also be caught wild, which means they're captured and made into pets. Jumping spiders are one of the few creatures that do extremely well being wild caught. These are still predators, so they'll need to eat insects, such as crickets, wax worms, roaches and other insects.
Habitats do not have to be big at all as most jumping spiders are relatively small, but do need some sort of vertical space to freely jump and get exercise. Enclosures can be bought locally in Lubbock at shops like Pets Plus and Walter's World of Pets, which sell small enclosures that are decently priced and can be used to house a pet jumping spider.
Jumping spiders are also said to follow people around from their enclosures and just watch as you go about your day. With eight eyes, I'm sure that they love to use them all to take in the beauty of their surroundings.
More information about the habitats, feeding, and overall care for jumping spiders can be found in the video below made by Snake Discovery owner Emily Roberts, who has a bachelors degree in fisheries & wildlife from the University of Minnesota.
10 Myths About Texas That Even Some Natives Believe
Everything's bigger in Texas, including the tall tales! Our state can seem pretty strange to people from far away, or even our immediate neighbors. There are several myths about Texas that range from quirky to fun and just plain ignorant and insulting, and even some people born and raised her believe 'em. Here are a few we can dispel today.
Top 10 Best Places To Live In Texas
10 Majestic State and National Parks of Texas
These are some of the highest-rated, by visitors, state and national parks in Texas.
More From Talk 103.9 & 1340