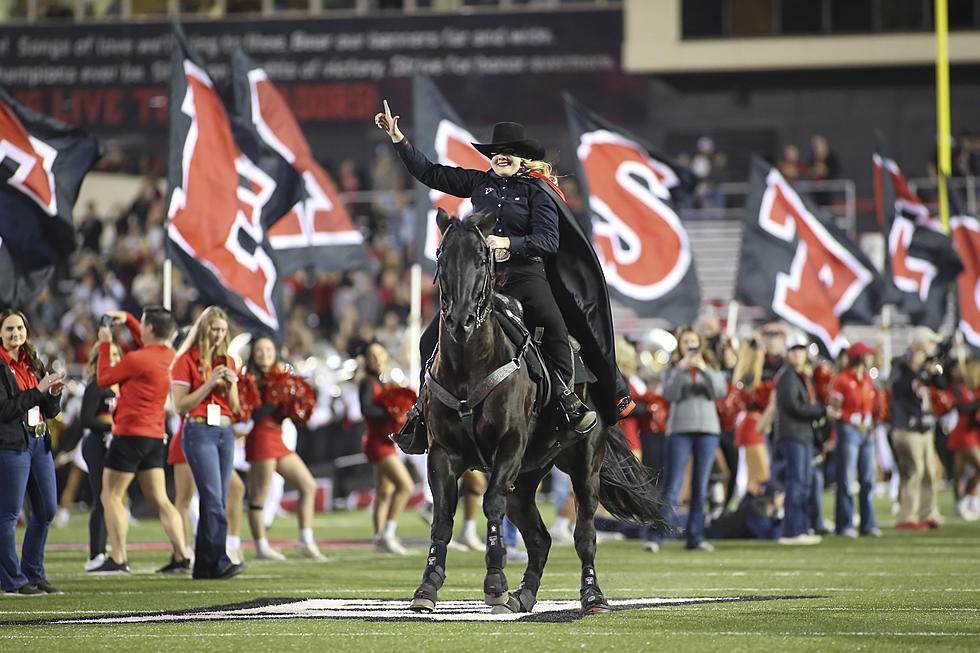 WATCH: Fearless Champion Makes Triumphant Final Ride After 10 Years of Service
Paul Roberts
The best tradition in college football was led by Fearless Champion for the last 10 years after debuting at the 2012 Bowl game. The next season was Fearless' first full regular season, and he never looked back.
During his decade of being the Red Raiders' mascot, he traveled a total of 150,000 miles and made 2,604 appearances with 10 different Masked Riders.
Before the Texas Tech Red Raiders game against the Oklahoma State Cowboys, Fearless Champion ran his last 100-yard dash. The black quarter-horse and the Masked Rider blew through the smoke and led the football team out to a strong first-half against a top 10 team.
Later in the game, Fearless Champion and his 10 Masked Riders were honored on the field.
The fans were emotional.
Fearless Champion will continue to make appearances for the rest of this school year and will officially retire in summer 2022. Texas Tech is already searching for the next horse to carry the Masked Rider in the 2022 football season.
---
Throwback: See Texas Tech in 1947
Controversy Erupts After Lubbock's Smiling Bush's Thanksgiving Decorations Are Taken Down
Drama alert. The famous smiling bush of Lubbock was decorated for Thanksgiving (as per tradition) earlier this week. But locals were shocked when the bush was bare a day later. Apparently, the owner of the home wasn't a fan of the decorations and asked for them to be pulled down. What happened next was a back-and-forth on social media, an airing of grievances and an outpouring of support for what the smiling bush means to Lubbock.
More From Talk 103.9 & 1340