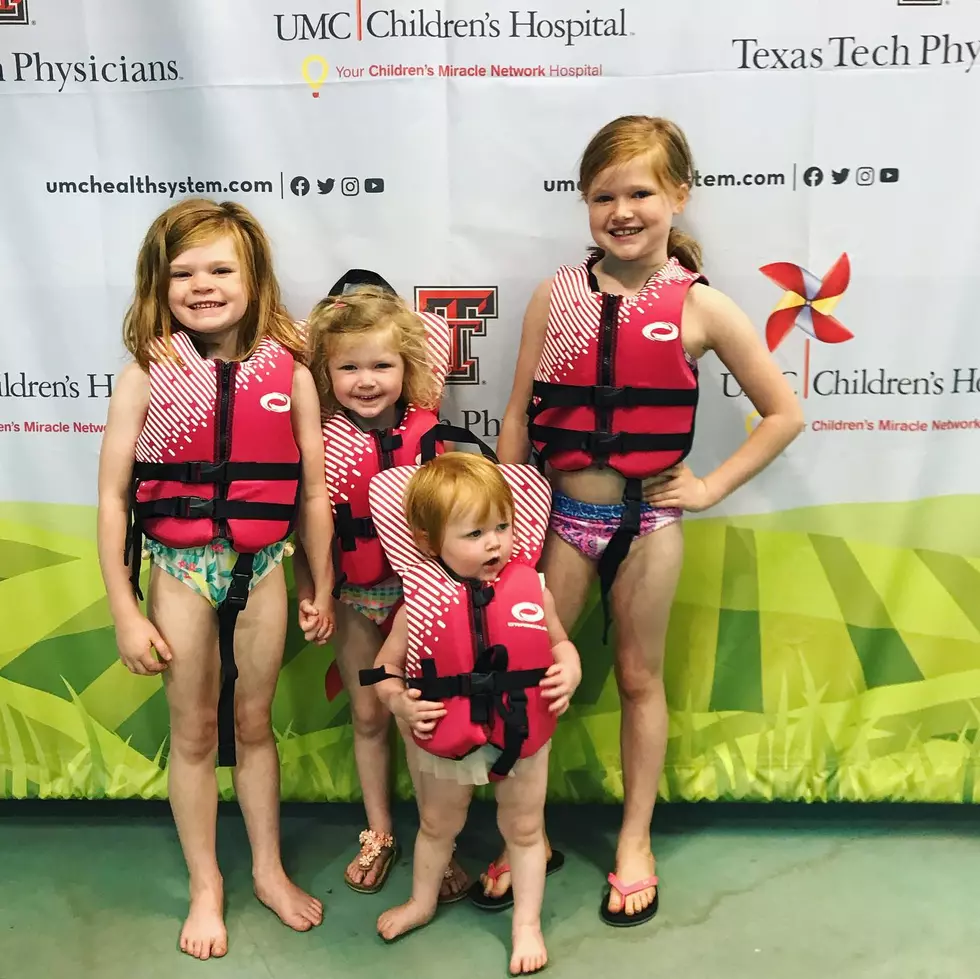 Expect Splashes & Smiles at This Free Lubbock Water Rampage Event
Credit: UMC
After noticing a rise in the number of drownings last year, UMC Children's Hospital and Texas Tech Physicians saw the need to intervene. That is how the UMC Children's Water Safety Event was born. This is their second year and it's going to be filled with fun, freebies and lifesaving information.
Aaron Davis, UMC's vice president and chief experience officer, stated "our goal is to equip community members with the tools, resources, and education necessary to make sure that their environments as well as their summer activities are as safe as possible."
Kids will get the chance to tour UMC's First Responder vehicles, meet the Lubbock Fire Rescue Dive Team, partake in raffles and drawings and, of course, enjoy the fun attractions that Lubbock Water Rampage has to offer. Davis also noted that they will "be providing life jackets to the first 500 minor age child participants while supplies last." The only requirement -- a parent or guardian must be present.
Additionally, parents can find out about some amazing swimming resources in the community and even gets some CPR training while at the event. Drowning is the leading cause of accidental death in children ages 1 through 4, so this is a fantastic way to learn lifesaving information and beat the heat at the same time.
"Our hope is to really combine education, safety, and fun. We want to engage with the community [and] provide them with good opportunities to get involved, be active, be safe, and have a wonderful time with their family," Davis stated.
This free event is this Saturday, June 11th from 9:30 to 11:30 a.m. at Water Rampage. Best of all, if you attend the event, you are welcome to stick around and enjoy all that the park has to offer for the rest of the day!
Water Rampage is located in Lubbock at 6602 Marsha Sharp Freeway in Lubbock, Texas. Remember to get there early to qualify for a free life jacket and make sure to wear your swimsuit and plenty of sunscreen.
Follow These 10 Tips to Keep Your Kid's Skin Sun Safe
Here's how to make sure your kids' skin is protected in Texas' scorching summer heat.
Top Nine Reasons Kids End Up in The ER in the Summer Months
Dr. Kristy Bybee, Pediatric Emergency Medicine Physician at Covenant Children's Hospital in Lubbock wants parents to be aware of the dangers that can land their kids in the ER, especially in the Summer months. By knowing the potential causes for concern, you can be proactive about preventing these types of injuries.
Simple Snack & Meal Ideas to Keep Your Kids Hydrated on Triple Digit Days
All of these delicious foods are at least 70% water! Including them in your kid's diet is an easy way to help prevent them from becoming dehydrated!
More From Talk 103.9 & 1340