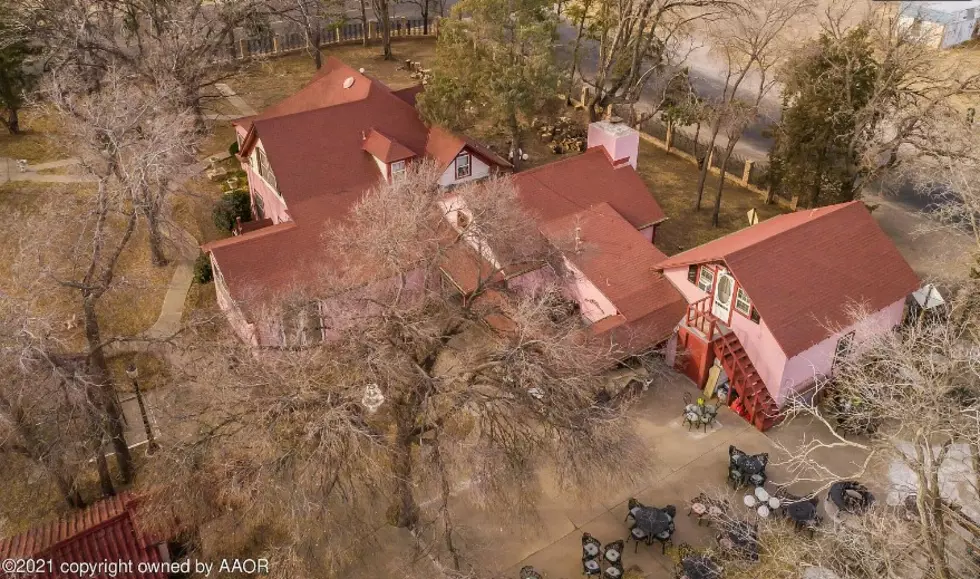 West Texas Estate Up for Sale Is a Real-Life Dollhouse [Photos]
via Zillow
Do you ever see a property, and immediately start dreaming of what it could become?
When I saw this Amarillo estate up for sale, I immediately thought it would make an amazing Airbnb and venue space for fairy tale weddings and more. In fact, this property is the former Maddox Manor House and event venue. It was built in the 1920s but has an aesthetic that's even older. This house is a "real-life" Victorian dollhouse.
The property consists of a main house and other livable structures, in addition to tons of ground space, as it's situated on nearly two and a half acres. From the Zillow listing:
The 1927 main home has 4 bedrooms and 2 baths all with wonderful original craftmanship. Also an apartment above the garage. Behind the home is a fabulous log cabin that makes you feel like you are deep in Rocky Mountains. Then there is the original water tower and root cellar. A peaceful wishing well covered with an ornate gazebo, and a 2 bedroom guest house that works perfectly for the bride and bridesmaids.

 
For those who wouldn't want to put this property to work per se, I could also imagine this estate working really well for an extended family who wants a large cooperative garden and shared spaces, but also their own personal living areas.
All of those lovely amenities aside, the interior of the main house is something truly unique and special. It's the dollhouse, complete with beautiful antique furnishings and Victorian style décor. I particularly love the formal dining area with its maximalist design and opulence.
West Texas Estate For Sale Is A Real Life Doll House
Built in the 1920s, this estate consists of a main house, a cabin, an apartment and tons of amenities.
San Antonio House for Sale Has Majestic Caverns
A large and lovely San Antonio home for sale has an unusual amenity- natural, assessable, and majestic caverns on the property
Take a Look Inside the Luxurious 'Dallas Future House'
Have a few million lying around for a new home or just love to see how the rich live? Check out what I like to call the "Dallas Future House."
More From Talk 103.9 & 1340