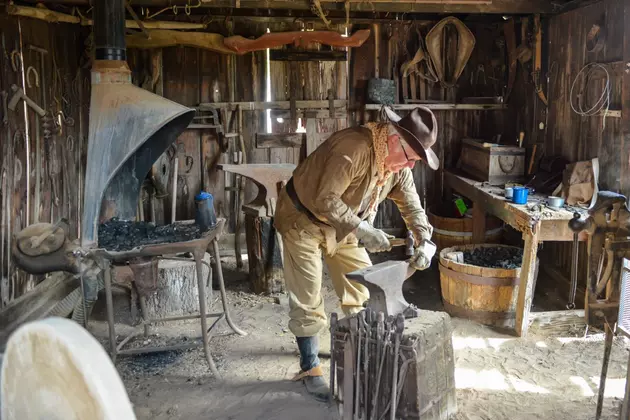 Don't Miss Out On "Ranch Days" This Saturday In Lubbock
NRHC
Wanting to learn more about the ranching lifestyle and what the full ranching experience really is? Then you will want to attend the 54th Annual Ranch Day at the National Ranching Heritage Center.
This Saturday, April 22 from 10:00 a.m. to 4:00 p.m. anywhere from 3,000 to 5,000 guests are expected at the National Ranching Heritage Center to experience live demonstrations and get a hands-on experience in the ranching lifestyle and what it means to work on a ranch. In fact, kids will have a chance to become a "Ranch Hand" by completing different activities.
According to a press release from the National Ranching Heritage Center, there will be different events and demonstrations to take in while attending.
Events and Demonstrations:

· Snake Oil Magic Show with Barry Moffitt in 6666 Barn

o 11 a.m. and 1 p.m.

· Horse and cattle demonstrations with Four Sixes and Jones Ranches cowboys

o 10:30 a.m. & 1:30 p.m.

· Horse demonstrations with the Texas Tech Ranch Horse Team in Round Pen throughout the day.

Ranch History will be provided by volunteers and Ranch Hosts at many of the historic structures in the park and will include tours of the 1909 Barton House.

Ranch Skills activities will include:

· Cattle branding wood with Ranching Heritage Association members

· Paint branding cows

· Wash clothes on washboard

· Stick horse rodeo with Texas Tech Rodeo Team

· Churning butter

· BB gun shooting and archery with Cabela's Outpost

· Button spinners

· Horseback rides with Texas Tech Therapeutic Riding Center from 10 a.m. – 1 p.m.

· Tagging cattle with Texas Farm Bureau

· Angus cattle from Bozeman Cattle
There will also be activities dealing with Rach Science and Food trucks as well. Plus there will be demonstrations inside the main gallery about historic firearms. This is a great event for the entire family!
70 Lubbock-Area Food Trucks You Need to Try
Here's a list of all the food trucks in alphabetical order so it is easy for you to find here in Lubbock. Support local!
Must-See Concerts & Performances Coming to Lubbock in 2023
40 Lubbock Restaurants With Great Daily Specials
More From Talk 103.9 & 1340